CLOSED FOR SALE/
DATE: Saturday, July 15, 2017          
Departure Time: 8:00 am (7:30am checkin) / Three day-Three night package
PRICING: $561 per person, double occupancy (single supplement $278.00)
GROUP SIZE: 25 minimum – 50 maximum
DEPARTURE/RETURN: Oregon Convention Center – Holladay Street
*SINGLE TRAVELERS – If you would like to be considered to share a room, please indicate that in the notes at time of booking. You must prepay the supplement (total $839.00) and will be refunded the single supplement if we are able to pair you with another single traveler, same gender.
*TRIPLE – If you are a group of 3, also please make this note at time of booking so we can accommodate you in a room with 2 beds and/or request a rollaway if hotel offers and requested.
AHWT IS A CERTIFIED SELLING AGENT FOR TRAVELSAFE INSURANCE – Protect your trip for unforeseen cancellation (air, hotel, tours). Click here!
Tour Description:
Spend some time on the beautiful Oregon Coast and on the campus of Oregon State University.

Photo credit: Walter Siegmund
On our FIRST DAY, we will visit historic Astoria, Oregon, on the banks of the Columbia River. Stops include the Astoria column (unrivaled views of Young's Bay, the Columbia River and the Pacific Ocean) and the Columbia River Maritime Museum. We will then head down to the quaint beach town of Cannon Beach, where you can also see Haystack Rock, an important nesting site for tufted puffins, cormorants, and other sea birds.
We continue our excursion down the coast, with a stop to explore old growth forest right on the beach (Oswald State Park). We conclude the day in Tillamook, Oregon, for dinner and for our first overnight stay.
On our SECOND DAY, the OSU Extension Master Gardeners in Tillamook County will give us a guided tour of their Learning Garden, where gardeners harvest fresh produce for local food banks. The Learning Garden features espalier trees, native shade plants, deer-resistant foliage, an herb and butterfly garden, and a children's garden, with an eco-roof play structure.
Next, we'll swing by the Tillamook Cheese Factory for a self-guided tour and samples. From Tillamook, we drive to Newport, Oregon, for visits to the Oregon Coast Aquarium and Newport Bayfront. The Lincoln County Master Gardeners will provide us a tour of their unique ocean-front garden at the Yaquina Bay Lighthouse. We will overnight in ocean-side rooms at the Elizabeth Street Inn in Newport.
On our FINAL DAY, we will drive to Corvallis, Oregon, home of Oregon State University (OSU). We will stop at the Oak Creek Center for Urban Horticulture to learn about current OSU research. Then head over to the Food Science and Technology Department's Pilot Plant, where we will learn about research and development in the realms of beer, wine and cheese.
Next, we'll head to downtown Corvallis, for time to lunch and shop on your own. After lunch, we'll tour a local cider house that grows and uses unique, horticultural crops for cider, before heading to Garland Nursery, a 4th-generation family nursery in the Willamette Valley.
Our final tour stop will be in Albany, Oregon, to visit the historic Albany Carousel and Museum. The carousel is the result of over 152,000 recorded volunteer hours, from folks who have hand-carved and painted over 50 animals. These animals ride upon an antique 1909 Dentzel Carousel Corporation mechanism, which volunteers have lovingly brought back to life through a ten-plus year restoration effort.
We'll then head back to Portland, for an overnight stay in a downtown hotel. Then it's back home you go.
Tour Itinerary:
Day 1, Saturday, July 15, 2017
Astoria Column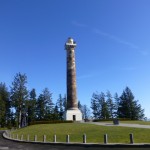 The Astoria Column is covered with a spiral frieze depicting historical events from the landing of the first white men. It has been restored for its 90th anniversary in July 2017.
Columbia River Maritime Museum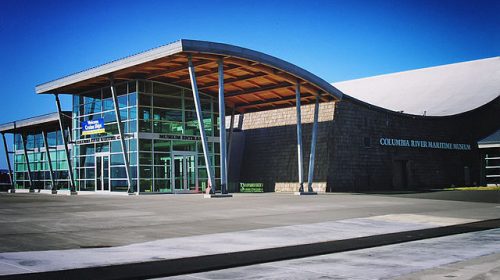 Photo credit: Steven Pavlov
Discover the stories of the legendary Columbia River Bar, one of the most dangerous passages in the world, at the nationally renowned Columbia River Maritime Museum. Explore the extreme forces at work along the Bar. Learn about waves that can exceed 40 feet in height during the most severe winter storms. See exciting exhibits on the U.S. Coast Guard and the Columbia River Bar Pilots. Witness the legendary salmon fishing runs, and take a tour of a floating lighthouse, the lightship Columbia.
Lunch – On own in downtown Astoria
Cannon Beach and Haystack Rock
Cannon Beach: A quaint little beach town with shops, art galleries, restaurants, and candy shops for fresh made salt water taffy.
Historic Haystack Rock: A large basalt monolith that is protected as a marine wildlife sanctuary and important nesting birding site for tufted puffins, cormorants, gulls, and more. This Rock is the most photographed monolith on the Oregon Coast.
Oswald West State Park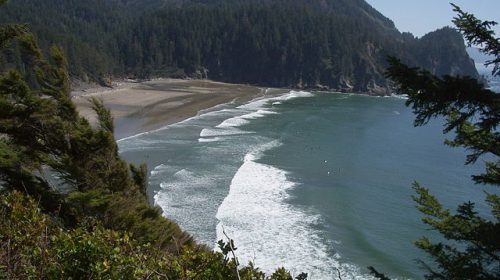 Photo credit: EncMstr
We continue our excursion to more amazing view points along the coastal range with a stop to explore the old growth forest right on the beach. Enjoy a great viewpoint from Neahkanie Mountain, one of the largest peaks in the Coast Range. Look south to Manzanita, Neahkanie, and the Nehalem River.
Dinner at the Tillamook Shilo Restaurant
Overnight at the Shilo Inn, Tillamook
Day 2, Sunday, July 16, 2017
Breakfast at the Shilo Inn, Tillamook
Tillamook Learning Garden at the Tillamook Fairgrounds.
This is an ongoing educational project of the Tillamook County Master Gardeners.it is used in MG training and features a herb and butterfly garden, a raised bed veggie cloche, a children's garden, limited mobility garden, eco-roof, and many more demonstration plots. Master Gardener volunteers will be on site to answer questions about gardening in the coastal region.
Tillamook Cheese Factory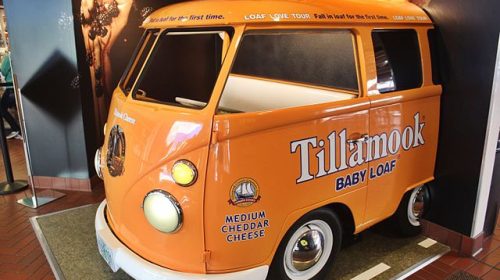 Photo credit: jlh_lunasea
Find out the kind of dairy products that can be produced from the cool, wet, green of the Oregon Coast. Ice cream, anyone?
Oregon Coast Aquarium
Photo credit: M.O. Stevens
Exhibits here are known internationally for the quality of their construction, maintenance and interpretation. Exhibits range from those you can touch and hear to those you can see and explore. Experience the ethereal magic of jellyfish and the magnificent colors of the many varieties of fish.
The Aquarium strives to be a center of excellence for ocean literacy and plays an active role in conservation and animal rehabilitation efforts.
Yaquina Bay Lighthouse and Garden
This garden is collaboration between the Lincoln County Master Gardeners and several local community groups. The garden is over 20 years old and proves that you can grow lots of different plants at the Coast. Working with elementary school students, seeds are planted and harvests go to the local food pantry. Lincoln County MGs will be on hand to do a short tour of the lighthouse garden. Take the opportunity to chat with them.
Shopping on Newport Bayfront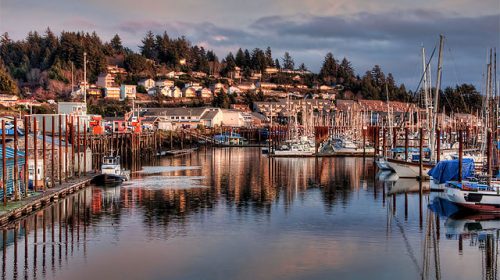 Photo credit: Sandy Horvath-Dori,Grand Junction, CO, USA
The Bayfront is a working waterfront where you can enjoy shops, art galleries, chowder houses, restaurants, fish processing plants, and family attractions in turn-of-the-century storefronts from a bygone era.
Check into Elizabeth Street Inn ~ 6pm. Dinner on your own on Bayfront
Day 3, Monday, July 17, 2017
Continental breakfast at hotel.
Oak Creek Center for Urban Horticulture (OCCHU) on the OSU Campus
OCCUH is learning laboratory for sustainable horticultural practices in both rural and peri-urban (on the interface between urban and rural) landscapes. They have projects involving the cinnabar moth (a weed biocontrol), a mushroom log fence, annual flower trials, a student organic garden, several kinds of bee keeping, and permaculture.
OSU Fermentation laboratories
State of the art Pilot plant facilities enable researchers, students and extension staff to follow beers, wines, breads and cheese s from idea to finished product.
Lunch and shopping in downtown Corvallis
2 Towns Ciderhouse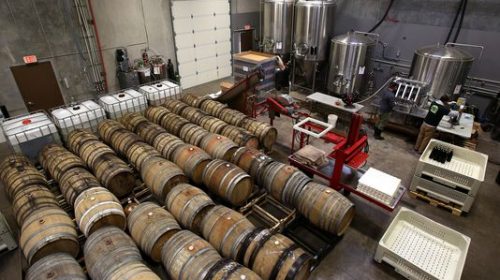 These craft cider artisans are choosing apples and methods to produce ciders in the European tradition. Slow, cold fermentation methods, along with local, gluten free ingredients result in ciders such as Ginja Ninja, Outcider, Cot in the Act (apricot flavor) and Made Marion. We'll stop by to see how they're doing.
Garland Nursery
Garland Nursery is a 4th-generation, family-owned business. For over 76 years, they have had a reputation for inspiring customers and helping them created a calming, beautiful setting in their own backyard. Garland Nursery has over six acres of trees, shrubs, flowers, houseplants, and bonsai trees. It is well known for showcasing the rare and newest varieties available.
Albany Carousel and downtown Albany
The Carousel is scheduled to open in June of 2017. Besides the Carousel itself, you can visit the studio and the community volunteers that made it all happen. Over 152,000 volunteer hours were put in hand-carving and painting the giraffes, unicorns, buffalo, griffins, and many others. Then enjoy the riverfront park (directly behind the studio) and all the restaurants and shops that Albany's downtown has to offer. Next stop, Portland
Arrive Portland, Check in to the Doubletree Hotel Lloyd Center
(*tour is accessible to all mobility challenges, but buses do not have wheelchair lift capability)
Tour Price Includes: Pick up and drop off, transportation, tour guide, and gratuities. All applicable fees, unless otherwise stated. Hotels in Newport (Shilo Inn), Tillamook (Elizabeth St. Inn), and Portland (Doubletree). Admissions to the Maritime Museum and Newport Aquarium, two breakfasts. Water and snacks daily.
Not Included in Price:  You will have an opportunity to purchase lunch, dinner, and/or snacks.
Payment: On-line reservations can be made or via phone using a credit or debit card. Payment will be processed immediately to secure your reservation. Payment will be non-refundable but transferable.
Reservations: All reservations are final at time of booking.
Terms and Conditions
I. Other Entities: America's Hub World Tours (AHWT) will not be held responsible for cancelations, changes to services/fees/price, conduct, of quality of goods and services for entities that operate under any name other than AHWT including, but not limited to: vendors, tour operators, vineyards and wineries, event staff, hotels, transportation companies, restaurants and entertainers.
II. Weather – Unless otherwise noted and specified all services are planned to operate regardless of weather. In the event of an "Act of God" and weather presents a safety issue AHWT will offer other tours to consider. There will be no reimbursements, full or partial, for inclement weather experienced during any service provided. It is the responsibility of the guests to be prepared for predicted weather and dress accordingly.
III. Conduct –AHWT assumes no responsibility for conduct of individuals other than its guides/employees/officers.
Indemnify: Except as otherwise prohibited by law each party shall indemnify and hold the other party harmless from all claims, actions, suits, losses, and expenses of any nature for its employees or subcontractors, breach of their agreement, negligence or intentional misconduct.
Insurance: America's Hub World Tours (AHWT), will ensure all tour operators, and bus companies provide insurance coverage for all vehicles utilized while providing services.
No smoking in Vehicles; No alcohol drinking in vehicles! Not responsible for articles left in vehicles! There will be a $200 minimum damage/cleaning charge resulting from customer misuse. All passengers are responsible and liable for their own actions while in this vehicle; neither the driver nor the company is responsible or liable for any injury or damage caused by or as a result of any customer actions. We are not in control of the traffic and therefore take no responsibility for time issues due to traffic.
The state of Oregon requires all parents with children requiring car seats to use them. Child passengers must be restrained in approved child safety seats until they weigh forty pounds or reach the upper weight limit for the car seat in use. Infants must ride rear-facing until they reach both one year of age AND twenty pounds. We do not supply car seats; if you did not bring one the hotel can recommend rental locations. Some will deliver to hotels.
Portland Step on Guide Service, Sergio Tours, and other local partners in collaboration with America's Hub World Tours are offering to bring you the best and most complete tour experience available.