Duration:  Monday – Tuesday – Friday (Minimum 4 people required to operate tour, may be from different groups)
Departures: 9:00 am until 5:00 pm
Pricing: $140 per person (includes admissions, transportation and professional Tour Guide)
Pick-up locations: Pick up & drop off at select downtown Portland hotels
Click Here for a list of many downtown Portland hotels we pick up at. 
Loading…
AHWT IS A CERTIFIED SELLING AGENT FOR TRAVELSAFE INSURANCE – Protect your trip for unforeseen cancellation (air, hotel, tours). Click here 
Silver Falls State Park, located about twenty miles southeast of Salem, is the largest state park in Oregon. The 9,064-acre park is notable for its numerous waterfalls, the tallest of which is Double Falls, at 178 feet. The best-known falls in the park is South Falls, at 177 feet.
Highlights:
Includes views of gorgeous waterfalls that you can walk behind
The Pacific Northwest forest offers old growth firs & cedars, canopy covered trails, and fern lined paths along creeks
Outdoor Adventures: "Where the forest trail ends, my imagination searches to find my dreams. When I look beyond the trees, I find the impulse to go where many cannot see. When I come back all I have is a picture forever etched in my memory. Then I wait until I can go again…"
Itinerary:
The first stop of the day will be at Willamette Falls. This  is a horseshoe-shaped block waterfall caused by a basalt shelf in the river bottom. The 42-foot-high and 1,500-foot-wide falls occurs 26 river miles upstream from the Willamette's confluence with the Columbia River. It's the largest waterfall by water volume in the Northwest and the 18th largest by volume. Around the falls are the locks, which are the oldest continuously operating multi-lift lock and canal system in the United States.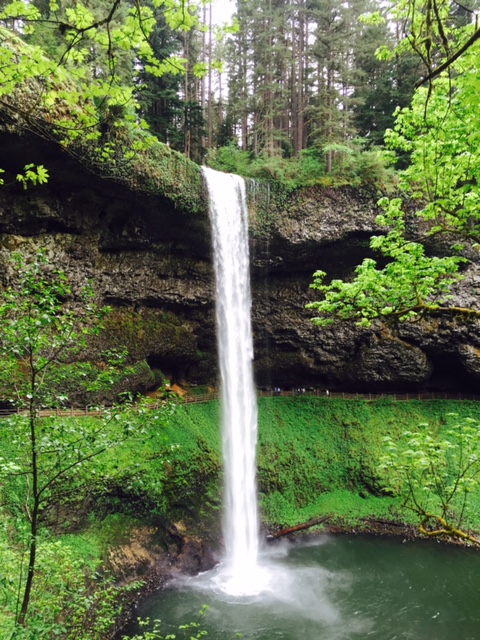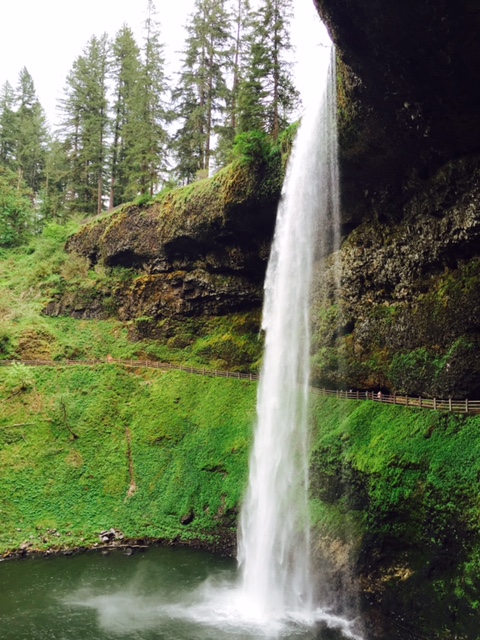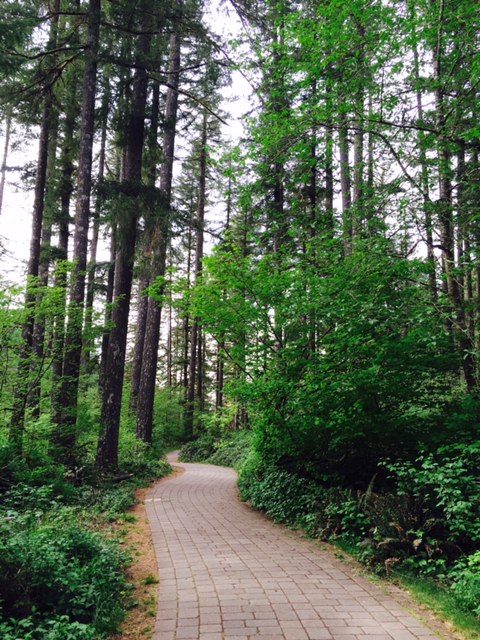 Next we will make our way to Silver Falls State Park.  This area was settled originally by the Kalapuyan Indians, who were removed through various treaties and resettled on the Grand Ronde Reservation. The Kalapuyans most likely used the area for hunting, as well as for spirit quests. A small town was established in the Silver Falls area, although it was abandoned by the time the park was created in 1933. Logging formed the backbone of the economy of the area in the nineteenth century.
Now people call Silver Falls State Park the "crown jewel" of the Oregon State Parks system, and once you visit, you know why. Silver Falls State Park is the kind of standout scenic treasure that puts Oregon firmly onto the national—and international—stage. Its beauty, boundless recreational opportunities and historic presence keep it there. Nestled in the foothills of Oregon's Cascade Mountains, less than an hour east of the state capital of Salem, the sprawling 9,200 acre property is the largest state park in Oregon, and one of the most popular.
While you are here you will be able to hike part of the Trail of Ten Falls (approximately 3 miles, further if you are able) and some of the waterfalls you may see are:
South Falls- This is the highlight of Silver Falls State Park, and due to its proximity to the city of Salem, is likely one of the most popular waterfalls in Oregon outside of the Columbia River Gorge. The falls are produced where South Silver Creek plunges 177 feet over a huge overhanging basalt cliff with a large pool occupying the bottom of the amphitheater.
North Falls- The massive recess behind North Falls is especially unique and a favorite feature of visitors to the park. The undercut cliff extends back from the falls for at least 100 feet, and the ceiling runs anywhere from 20 to perhaps as much as 75 feet above the trail as it passes behind the falls. The huge size of the under cut chamber allows the roar of the falls to be amplified considerably, making the falls sound quite powerful.
Twin Falls- During the wet season North Silver Creek splits into two channels and spills down an angled basalt ledge, creating two veiling curtains.
Middle North Falls- This is a markedly amorphous waterfall which changes physical shape in a very dramatic way as the volume of water in North Silver Creek changes. The 106 foot tall falls take the form of a narrow column of water during the summer months, funneled to perhaps 5 feet wide at most by a narrow runnel in the bedrock. With greater stream flow in the winter and spring months however, North Silver Creek sheets out across the 60-foot wide creek bed and turns the falls into a broad curtain of water, with part of the falls impacting on a twisting chute of basalt which then slides to join the more volumnous half of the creek in the plunge pool.
Double Falls- Double Falls is the tallest waterfall in Silver Falls State Park – by a hair – and also the best of the handful of tributary waterfalls found along the Trail of Ten Falls.
Drake Falls- Rumbles over a broad sloping ledge of basalt set in the middle of a fairly deep, narrow constriction in the canyon of North Silver Creek.
Lower North Falls-  North Silver Creek produces the falls as it rumbles down a 30-foot tall dome-shaped protrusion of basalt and forms a large pool at its base. The domed shape of the falls inspired the nickname "The Thunderdome" among the whitewater kayaking community.
Return to Portland
---
Terms and Conditions
Customized and Private Tours: All tours can be customized and/or made private. Please contact us for details and pricing.
Tour Price Includes: Pick up & Drop off, transportation and tour guide. All applicable fees, unless otherwise stated.
Not Included in Price: Gratuity NOT included.
Requirements: Tours require 4 person minimum for confirmation. Please contact us for current status of tour.
Payment: On-line reservations can be made or via phone using a credit or debit card. Payment will be processed immediately to secure your reservation. Payment on day of pick up will not guarantee your reservation.
Reservations: All reservations are final at time of booking. We recommend two weeks in advance for reservations especially during our high volume seasons. Walk-ins please call to confirm departure and availability.
Cancellation Policy: If you cancel at least 7 day(s) in advance of the scheduled departure, there is no cancellation fee.
If you cancel between 3 and 6 day(s) in advance of the scheduled departure, there is a 50 percent cancellation fee.
If you cancel within 2 day(s) of the scheduled departure, there is a 100 percent cancellation fee.
I. Other Entities – AHWT will not be held responsible cancelations, changes to services/fees/price, conduct, of quality of goods and services for entities that operate under any name other than America's Hub World Tours including, but not limited to: vendors, tour operators, vineyards and wineries, event staff, hotels, transportation companies, restaurants and entertainers.
II. Weather – Unless otherwise noted and specified all services are planned to operate regardless of weather. In the event of an "Act of God" and weather presents a safety issue AHWT will offer other suggested tours to consider. There will be no reimbursements, full or partial, for inclement weather experienced during any service provided. It is the responsibility of the guests to be prepared for predicted weather and dress accordingly.
III. Conduct – AHWT assumes no responsibility for conduct of individuals other than its guides/employees/officers.
Indemnify: Except as otherwise prohibited by law each party shall indemnify and hold the other party harmless from all claims, actions, suits, losses, and expenses of any nature for its employees or subcontractors, breach of their agreement, negligence or intentional misconduct.
Insurance: America's Hub World Tours (AHWT), will maintain or provide insurance coverage for all vehicles utilized while providing services.