Old West Wagon Train Experience!
Season: July through September 2018
Minimum Guest Count: 6 (The minimum guest count can be met by multiple people from separate groups booking this tour.)
Maximum Guest Count: 18
2018 Departure Dates: July 6/13/20/27, August 3/10/17/24/31, September 21
Duration: 3 days/2 nights
Pricing: $824.00 per person
Includes:  Activities as listed, meals as listed, transportation from Pendleton to the wagon train and back to Pendleton.
Wagon trains first began heading west in the 1820s with the opening of the Santa Fe Trail from St. Louis, Missouri. The emigrant trains to Oregon and California had their origins in the mid-1840s, hitting their peak during the 1850s following the California Gold Rush.  Find out what it is like to ride in a wagon train as these pioneers did, on the Old West Wagon Train Excursion!
Day 1: Wagon Train Excursion (group dinner)
This afternoon you will start an experience like no other.  We will pick you up in downtown Pendleton, Oregon and drive you to where you will start this once in a lifetime experience. Have you ever wondered what it would be like to travel in a covered wagon pulled by mules, eat food cooked over the campfire, and sleep under the stars in an area where the sky is so dark you can see every star above you? Today is when that unforgettable experience starts! We will spend the next three days exploring Eastern Oregon in covered wagons pulled by mules and Belgian horses. All of your meals during this Wagon Train Excursion will be provided for you. We will sit around a campfire eating delicious food and telling stories until you can no longer hold your eyes open. Once you are ready for bed you can climb into your tent and enjoy the amazing quiet of Eastern Oregon.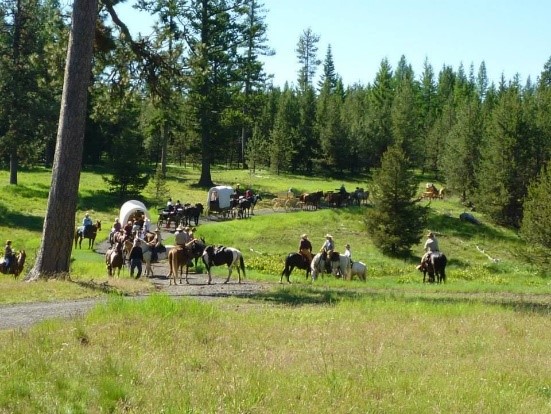 Day 2: Wagon Train Excursion (group breakfast/lunch/dinner)
Wake up early so you can take in an unforgettable Eastern Oregon sunrise. If you want to sleep in you can, but don't sleep in so late that you miss breakfast! Today we will continue exploring Eastern Oregon by wagon train. Be watching for deer, elk, eagles, and a variety of other wildlife as you explore the beauty of the Eastern Oregon forest by wagon train!
Day 3: Wagon Train Excursion (group breakfast)
This is our last morning on the wagons so make sure to soak up the experience. After breakfast we will return to Pendleton and you will be free to explore this wonderfully charming old west town!
** Please be aware that while on the Wagon Train Excursion you will be camping in a tent, and that there will be no bathroom facilities with running water available.  We will have a backcountry toilet for you to use, but you will not be able to shower while we are camping.
Customized and Private Tours: All tours can be customized and/or made private. Please contact us for details and pricing.
Tour Price Includes: Pick up & Drop off, transportation and tour guide. All applicable fees, unless otherwise stated.
Not Included in Price: Gratuity and lunch not included, unless specified. Many stops offer an oppotrunity to purchase lunch and/or snacks.
Requirements: Tours require 2 person minimum for confirmation. Please contact us for current status of tour.
Payment: On-line reservations can be made or via phone using a credit or debit card. Payment will be processed immediately to secure your reservation. Payment on day of pick up will not guarantee your reservation. Cash payments are accepted at time of tour.
Reservations: All reservations are final at time of booking. We recommend two weeks in advance for reservations especially during our high volume seasons. Walk-ins please call to confirm departure and availability.
Terms and Conditions
I. Other Entities: America's Hub World Tours (AHWT) will not be held responsible for cancelations, changes to services/fees/price, conduct, of quality of goods and services for entities that operate under any name other than AHWT including, but not limited to: vendors, tour operators, vineyards and wineries, event staff, hotels, transportation companies, restaurants and entertainers.
II. Weather – Unless otherwise noted and specified all services are planned to operate regardless of weather. In the event of an "Act of God" and weather presents a safety issue AHWT will offer other tours to consider. There will be no reimbursements, full or partial, for inclement weather experienced during any service provided. It is the responsibility of the guests to be prepared for predicted weather and dress accordingly.
III. Conduct –AHWT assumes no responsibility for conduct of individuals other than its guides/employees/officers.
Indemnify: Except as otherwise prohibited by law each party shall indemnify and hold the other party harmless from all claims, actions, suits, losses, and expenses of any nature for its employees or subcontractors, breach of their agreement, negligence or intentional misconduct.
Insurance: America's Hub World Tours (AHWT), will ensure all tour operators, and bus companies provide insurance coverage for all vehicles utilized while providing services.
No smoking in Vehicles; No alcohol drinking in vehicles! Not responsible for articles left in vehicles! There will be a $200 minimum damage/cleaning charge resulting from customer misuse. All passengers are responsible and liable for their own actions while in this vehicle; neither the driver nor the company is responsible or liable for any injury or damage caused by or as a result of any customer actions. We are not in control of the traffic and therefore take no responsibility for time issues due to traffic.
The state of Oregon requires all parents with children requiring car seats to use them. Child passengers must be restrained in approved child safety seats until they weigh forty pounds or reach the upper weight limit for the car seat in use. Infants must ride rear-facing until they reach both one year of age AND twenty pounds. We do not supply car seats; if you did not bring one the hotel can recommend rental locations. Some will deliver to hotels.
Portland Step on Guide Servic, and other local partners in collaboration with America's Hub World Tours are offering to bring you the best and most complete tour experience available.
For more information regarding the many other tours we offer please visit us at: http://www.americashubworldtours.com