Tour Length: 8-hours; year round
Departs: Monday, Wednesday, &  Saturday (Groups 6 or more contact us for private or customized days)
Departure Time: 9:00am (Customized for private or large bus groups)
Pricing: $100.00 per person
Pick Up Location: Downtown Portland hotels or Pre – arranged Locations
Includes pick up & Drop off, transportation and tour guide
Pick Up Area Click Here
AHWT IS A CERTIFIED SELLING AGENT FOR TRAVELSAFE INSURANCE – Protect your trip for unforeseen cancellation (air, hotel, tours). Click here –  IS A CERTIFIED SELLING AGENT FOR 
America's Hub World Tours presents, Portland Step on Guide Service and other local partners to bring you the best and most complete tour experience available.
View Customer Comments: Cick here!
Itinerary Summary:

Oregon's coastline is graced with unforgettable vistas: dramatic cliffs, offshore rocks and sea lions, wide sandy beaches, majestic capes, historic lighthouses, enchanted forests and lovely small beach towns which artists and artisans make their home. Along the coast we will visit Astoria, The Columbia River Maritime Museum, Astoria Column, Cannon Beach, Haystack Rock and enjoy spectacular views of the dramatic Oregon Coastline.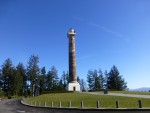 Astoria Column- Erected in 1926 this historical monument stands  above Astoria–600 feet above sea level to be exact–and unleashes an unrivaled view of Young's Bay, the Coast Range, the mighty Columbia River, and in the distance—the Pacific Ocean. Its light shines each night as a silent testament to the pride, fortitude, and resolve of the people who settled the Pacific Northwest, and to those who live here today.  The Column is the "crowning monument" in a series of 12 historical markers constructed between St. Paul, Minnesota and Astoria, Oregon. These markers were the pet project of Ralph Budd, who was president of the Great Northern Railroad at the time. Budd and other businessmen and scholars wanted to celebrate Astoria's early settlers for their role in expanding the United States to the Pacific Coast.
Cannon Beach- This picturesque small-town village by the sea is easily walkable and you will be able to explore meandering pathways, enjoy public art and courtyards spilling over with flowers. Known as one of the Northwest's top art towns, Cannon Beach is filled with art galleries, specialty shops, cafes and fine dining restaurants.
Historic Haystack Rock – Haystack Rock is one of Oregon's most recognizable landmarks, home to colorful tidepools and diverse bird life. It rises 235 feet from the edge of the shoreline. At low tide, you can walk right up to it and find colorful sea stars and other fascinating tidepool creatures in its intertidal area. Puffins can be observed on Haystack Rock from early spring to mid-summer, offering the most accessible viewing of Tufted Puffins in the Northwest. Many other varieties of birds can also be seen.  It's part of the Oregon Coast's geological history, formed millions of years ago by lava flows that created many of the dramatic capes and headlands on the Oregon Coast. Haystack Rock is part of the Oregon Islands National Wildlife Refuge and is a State protected marine environment.
Old Growth Forest We continue our excursion to more amazing view points along the coastal range with a stop to explore the old growth forest right on the beach.  Look south to Manzanita, Neahkanie and the Nehalem River.
Only a glimpse of what Oregon has to offer along the Oregon Coast…
Return to Portland
______________________________________________________
Customized and Private Tours: All tours can be customized and/or made private. Please contact us for details and pricing.
Tour Price Includes: Pick up & Drop off, transportation and tour guide. All applicable fees, unless otherwise stated.
Not Included in Price: Gratuity and lunch. You will have an opportunity to purchase lunch and/or snack.
Requirements: Tours require 2 person minimum for confirmation. Please contact us for current status of tour.
Payment: On-line reservations can be made or via phone using a credit or debit card. Payment will be processed immediately to secure your reservation. Payment on day of pick up will not guarantee your reservation. Cash payments are accepted at time of tour.
Reservations: All reservations are final at time of booking. We recommend two weeks in advance for reservations especially during our high volume seasons. Walk-ins please call to confirm departure and availability.
Terms and Conditions
I. Other Entities: America's Hub World Tours (AHWT) will not be held responsible for cancelations, changes to services/fees/price, conduct, of quality of goods and services for entities that operate under any name other than AHWT including, but not limited to: vendors, tour operators, vineyards and wineries, event staff, hotels, transportation companies, restaurants and entertainers.
II. Weather – Unless otherwise noted and specified all services are planned to operate regardless of weather. In the event of an "Act of God" and weather presents a safety issue AHWT will offer other tours to consider. There will be no reimbursements, full or partial, for inclement weather experienced during any service provided. It is the responsibility of the guests to be prepared for predicted weather and dress accordingly.
III. Conduct –AHWT assumes no responsibility for conduct of individuals other than its guides/employees/officers.
Indemnify: Except as otherwise prohibited by law each party shall indemnify and hold the other party harmless from all claims, actions, suits, losses, and expenses of any nature for its employees or subcontractors, breach of their agreement, negligence or intentional misconduct.
Insurance: America's Hub World Tours (AHWT), will ensure all tour operators, and bus companies provide insurance coverage for all vehicles utilized while providing services.
No smoking in Vehicles; No alcohol drinking in vehicles! Not responsible for articles left in vehicles! There will be a $200 minimum damage/cleaning charge resulting from customer misuse. All passengers are responsible and liable for their own actions while in this vehicle; neither the driver nor the company is responsible or liable for any injury or damage caused by or as a result of any customer actions. We are not in control of the traffic and therefore take no responsibility for time issues due to traffic.
The state of Oregon requires all parents with children requiring car seats to use them. Child passengers must be restrained in approved child safety seats until they weigh forty pounds or reach the upper weight limit for the car seat in use. Infants must ride rear-facing until they reach both one year of age AND twenty pounds. We do not supply car seats; if you did not bring one the hotel can recommend rental locations. Some will deliver to hotels.
Portland Step on Guide Service, Sergio Tours, and other local partners in collaboration with America's Hub World Tours are offering to bring you the best and most complete tour experience available.
For more information regarding the many other tours we offer please visit us at: http://www.americashubworldtours.com