Duration: 5 days & 4 nights (package requires 6 minimum)
Departure: June 8, 2017
Rate:
Double occupancy
Size 6              $ 1105 per person

Size 7-14          $ 1117 per person

Size 15-25        $ 1026 per person

Size 26-50       $ 932 per person
Rate Includes: Transportation by Mercedes Sprinter Vans or Luxury Coach, Professional Driver & Tour Guide, Hotel Accommodations, Entrance fees for activities listed, some meals (as listed).
Pick Up Location: Portland, Oregon
Book Now
AHWT IS A CERTIFIED SELLING AGENT FOR TRAVELSAFE INSURANCE – Protect your trip for unforeseen cancellation (air, hotel, tours). Click here –  IS A CERTIFIED SELLING AGENT FOR
America's Hub World Tours presents, Portland Step on Guide Service and other local partners to bring you the best and most complete tour experience available.
Day 1:  Arrive in Portland (lunch on your own, group dinner)
Upon your arrival in Portland, you can check in the host hotel (included in the package) and spend the rest of your day on your own.

Note: For group (20 or more) needing special arrangement with airport transfers contact us directly for assistance.

Lunch on your own, group dinner.

Overnight in Portland, OR
Day 2:  Portland City Tour – Columbia River Gorge Tour (lunch and dinner on own)
We don't just show you the highlights of downtown, we introduce you to the City of Portland. The only city tour in Portland that offers a well-balanced overview of both downtown and surrounding area history, culture, current events and a representation of cultural diversity in the state of Oregon. Travel through the various parts of the city from downtown Portland to the Pearl District to Nob Hill, local neighborhoods and visit all the must-see attractions including the Pittock Mansion, Lan Su Chinese Garden and the International Portland Rose Garden.
Downtown Portland:  

Enjoy the sites of Pioneer Square and learn about the great diversity found in Portland's downtown area, the historical importance it has played in the state's history and the fast-growing culture that exists in the City of Portland.

Learn about the final resting place of many prominent and notable citizens of Oregon; Lola Baldwin (1860–1957) First female police officer in the United States; Simon Benson (1852–1942) Portland businessman and philanthropist; Abigail Scott Duniway (1834–1915) Women's rights pioneer; Dorothy McCullough Lee (1902–1981) First female mayor of Portland; Henry Pittock, (1836–1919) Publisher of The Oregonian newspaper, and many more governors and United States Senators..
Have lunch at a Portland Food Cart

:  

Whether your tastes run from Greek gyros, Vietnamese Pho, Indian curries, Polish sausages, to Moroccan taglines, you can satisfy your appetite at Portland Food Carts all over town.

Pittock Mansion:  

A meticulously preserved architectural landmark that symbolizes Portland's transformation from a small lumber town into a bustling city. Home to the Pittock family and their descendants until 1958. It was severely damaged in the 1962 Columbus Day Storm, and then was nearly destroyed in the early 1960's when plans surfaced to turn the site over to developers. Spurred by community activists to preserve the historic home, City of Portland officials bought the estate in 1964. The house opened to the public as a museum in 1965.

Portland International Rose Test Garden:  

Let the fragrance of our Rose Gardens embrace you with over 550 different varieties of Roses, and delight your senses with the lush and beautiful Washington Park, featuring some of the most amazing mountain views around.

Cultural District:  

Visit the park blocks, location of our Portland Art Museum, founded in 1892, making it the oldest art museum on the West Coast and 7th oldest in the United States. Known for its Native American art, modern and contemporary art, permanent exhibitions of Asian art, and an outdoor public sculpture garden. The Park Blocks are dotted with statues, fountains, art & murals.

Lan Su Chinese Garden:  

Lan Su Chinese Garden is one of Portland's greatest treasures and most interesting sites to see while visiting Portland. A result of a collaboration between the cities of Portland and Suzhou, our sister city in China's Jiangsu province that's famous for its beautiful Ming Dynasty gardens, Lan Su was built by Chinese artisans from Suzhou and is the most authentic Chinese garden outside of China. Once inside the garden's walls, you'll feel as if you've traveled through time to another era in a faraway world.
After lunch we will drive to the Columbia River Gorge National Scenic Area

We don't just drive by the waterfalls! We stop and allow you to get out and up close. We start along the Historic Columbia River Highway. Some of the locations we will visit include Portland Women's Forum, Crown Point Vista House, Latourell Falls, Bridal Veil Falls, Multnomah Falls and Horsetail Falls. Stops may include:
Crown Point Vista House:  

Best known of the scenic lookouts along the Historic Columbia River Highway, providing a panoramic view of the Columbia River. The

Crown Point Vista House

was built in 1916 and refurbished and completely remodeled in 2005, and has a beautiful marble interior and brass fixtures.
Latourell Falls:  

Plunge 249 feet (76 m) over a massive wall of columnar basalt – some of the best formations in the Pacific Northwest – before cascading hastily towards the Columbia River. This waterfall is usually most recognized for the large patch of bright yellow lichen adorning the cliff face to the right of the falls, and this characteristic has led many famous photographers to this captivating location. If you stand in just the right place, and look way up, behind the falls you see another falls!
Multnomah Falls:  

The second highest year-round waterfall in the United States. Nearly two million visitors a year come to see this ancient waterfall, making it Oregon's number one public destination. Fed by underground springs from Larch Mountain, the flow over the falls varies but is highest during winter and spring.
Horsetail Falls:  

Horsetail Falls was named for its distinctive form and plunges 176 feet. The trail leads to Upper Horsetail Falls, also called Ponytail Falls. There the trail leads behind the base of the Falls. Horsetail Falls is a great opportunity to stop and take some photos or simply enjoy the beauty of the surrounding area.

Overnight Portland, OR
Day 3: Portland Rose Festival (lunch and dinner on own)
At the heart of Portland's popular culture for more than a century, the Rose Festival has its roots in tradition, with inspired programming that embraces both the contemporary and the nostalgic. Visionary city leaders started the festival during the first decade of the 20th Century to put Portland on the map and brand it "the summer capital of the world." Little did they know that more than a hundred summers later the Rose Festival would be world-famous – both for its remarkable, award-winning events and as a leader in celebrating community values like volunteerism, patriotism and environmentalism.
8:00 am

Rose Parade – Ride MAX to the Coliseum

You get up early to see all the pre-parade activities inside the Memorial Coliseum in your reserved seats, including the coronation of the Rose Parade Queen.

10:00am – 12:00pm

After the parade you will have a free afternoon to explore the Portland Saturday Market where local & import crafts come together all in one place with entertainment, food vendors, and people from all over the world mingle along Portland's waterfront.

Make sure to check out all of the events happening along Waterfront Park!

Dragonboat races

Tour ships from the U.S. Navy, U.S. Coast Guard, and Royal Canadian Navy

Carnival

Food Fair

Live music

Ride MAX train back to hotel

Overnight Portland, OR
Day 4: Heart of the Gorge Explorer Cruise (lunch on own, group farewell dinner)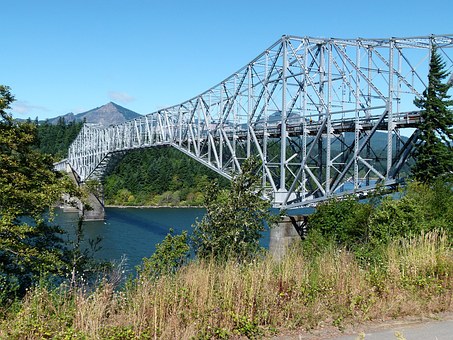 Now that you have experienced Portland & the Columbia River Gorge from land, experience them from water!

Explore the Willamette and Columbia Rivers aboard the Explorer high speed boat from Portland through the Heart Of The Gorge, covering over 120 miles. From the beauty of the Willamette Valley and Portland Skyline, through the port of Portland, into the epic Columbia Gorge, and through the locks at Bonneville Dam, this fully narrated tour of the Pacific Northwest aboard the Explorer is an exhilarating, informative journey. At the halfway point of the journey in Cascade Locks, enjoy a relaxing lunch at Locks Waterfront Grill before the return-trip to Portland. Total tour time is 7 hours.

We will ride the MAX train to and from the cruise.
Day 5: Departure
Free time to explore Portland until your flight departs.
Customized and Private Tours: All tours can be customized and/or made private. Please contact us for details and pricing.
Tour Price Includes: Pick up & Drop off, transportation and tour guide. All applicable fees, unless otherwise stated.
Not Included in Price: Gratuity and adult beverages.
Requirements: Tours require 6 person minimum for confirmation. Please contact us for current status of tour.
Payment: On-line reservations can be made or via phone using a credit or debit card. Payment will be processed immediately to secure your reservation. Payment on day of pick up will not guarantee your reservation. Cash payments are accepted at time of tour.
Reservations: All reservations are final at time of booking. We recommend two weeks in advance for reservations especially during our high volume seasons. Walk-ins please call to confirm departure and availability.
Terms and Conditions
Other Entities: America's Hub World Tours (AHWT) will not be held responsible for cancelations, changes to services/fees/price, conduct, of quality of goods and services for entities that operate under any name other than AHWT including, but not limited to: vendors, tour operators, vineyards and wineries, event staff, hotels, transportation companies, restaurants and entertainers.

Weather – Unless otherwise noted and specified all services are planned to operate regardless of weather. In the event of an "Act of God" and weather presents a safety issue AHWT will offer other tours to consider. There will be no reimbursements, full or partial, for inclement weather experienced during any service provided. It is the responsibility of the guests to be prepared for predicted weather and dress accordingly.
III. Conduct –AHWT assumes no responsibility for conduct of individuals other than its guides/employees/officers.
Indemnify: Except as otherwise prohibited by law each party shall indemnify and hold the other party harmless from all claims, actions, suits, losses, and expenses of any nature for its employees or subcontractors, breach of their agreement, negligence or intentional misconduct.
Insurance: America's Hub World Tours (AHWT), will ensure all tour operators, and bus companies provide insurance coverage for all vehicles utilized while providing services.
No smoking in Vehicles; No alcohol drinking in vehicles! Not responsible for articles left in vehicles! There will be a $200 minimum damage/cleaning charge resulting from customer misuse. All passengers are responsible and liable for their own actions while in this vehicle; neither the driver nor the company is responsible or liable for any injury or damage caused by or as a result of any customer actions. We are not in control of the traffic and therefore take no responsibility for time issues due to traffic.
The state of Oregon requires all parents with children requiring car seats to use them. Child passengers must be restrained in approved child safety seats until they weigh forty pounds or reach the upper weight limit for the car seat in use. Infants must ride rear-facing until they reach both one year of age AND twenty pounds. We do not supply car seats; if you did not bring one the hotel can recommend rental locations. Some will deliver to hotels.
Portland Step on Guide Service, Sergio Tours, and other local partners in collaboration with America's Hub World Tours are offering to bring you the best and most complete tour experience available.
For more information regarding the many other tours we offer please visit us at: http://www.americashubworldtours.com