Tour Length: Appr. 3.0- 3.5 hours
Dates: Offered Year Round Daily (Except Wednesday)
Departure Time: 9:00am and 2:00pm
Hotel pick-up: Pick up and Drop off at select hotels in downtown Portland.
Group Size: 4-10 people per tour and customized for groups 10-50 people.
Tour Requirements: A minimum of 4 or more people are required before the tour will operate
Cost: $100 per person (Require groups of 4 or more to confirm departure)
AHWT IS A CERTIFIED SELLING AGENT FOR TRAVELSAFE INSURANCE – Protect your trip for unforeseen cancellation (air, hotel, tours). Click here 
America's Hub World Tours presents, Portland Step on Guide Service and other local partners to bring you the best and most complete tour experience available.
The dream of the 90s is alive in Portland!
Now you can experience and follow the Portlandia Dream through many of the key film locations. We don't just show you show locations, we show you the highlights that make Portland unique and inspired Fred and Carrie to create the show. You will be talking to our local guides who live it daily. Optional to come dressed in costume or just take in all there is to see… Either way, you're going to experience what makes Portland so Weird-Fun-Foodie!
It seems so wrong to dip a donut into sacred Stumptown Coffee, but if you must, make it a Miami Vice Berry or consider that Bacon Maple Bar; both from Voodoo Doughnut and remember Portlandia's "Coffee Shop Manifesto" baristas in Portland are artists and highly qualified (some with doctorate degrees in subjects like rainforest ethno botany). So, don't be irresponsible when ordering; we take our coffee seriously! Did I mention included is one Voodoo Donut and a cup of coffee. You're sure to pass by The Ace Hotel where you can buy custom bow ties, request a rubber ducky or order Stumptown coffee room service. And like Portlandia's "Deuce Hotel" skit, some rooms come with turntables.
Of course you can't be a true Portlander without hearing us talk about the bike scene, — one such skit was shot outside the iconic, block-wide Powell's Books. If you're in the mood for a beer we have 52 breweries in Portland. There's even gluten-free brewing. Or you can visit the fragrant Rose Gardens or 600+ food carts downtown afterward on your own.
We set off to discover rare species of native birds wandering the city.
WAIT! "Put a Bird On It"
We include a stop at Land Gallery. This quirky quote came about when Bryce and Lisa go into a home décor store and start applying birds on everything, to improve how it looks and feels, from tote bags, lamps, cards to tea pots, until an actual bird flies in and they become disgusted by it. Now, you too can take home a treasure and "put a bird on it".
Continuing on our shopping theme we stop at Rock & Rose: "Vintage Clothing Store" is where Carrie plays a customer trying to sell clothes to a vintage clothing store only to be ridiculed verbally and in sign language for her lack of style by a judgmental clerk. Rock and Rose carries vintage and locally produced awesome new garments.
Our next film location is Mississippi Marketplace Food Carts: "Stu's Stews" is an episode where Donald can't figure out why they can't sell or even give away any samples of their stew. It is filmed across from the Mississippi Marketplace where you can enjoy a variety of meals including Asian, BBQ, and Breakfast Sandwiches. Portland has too many foodie hot spots to name. It has cold spots too, for that matter, like ice cream joint, Salt and Straw, Paxton Gate scene of the Knott episode. There's The Meadow for salt, chocolate and bitters; and Sunlan lighting — oh and cool bathroom fixtures that make you wish to use the loo twice.
We continue our NO TAX! Shopping at Women & Women First Bookstore: This was the setting in an episode where a customer unwittingly uses the bookstore restroom ignoring the "4 customers only" sign and then is forced to buy something from the feminist bookstore. In Other Words is a non-profit, volunteer run, feminist community center that serves as a book store, a lending library and a venue for feminist events.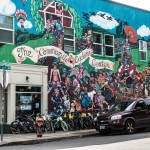 Your tour guide will share other information and point out some additional locations throughout the tour where Portlandia was filmed. Including Alberta Street Neighborhood rich in history, cultural and one of Portland's most diverse communities. On Alberta Street you will find yourself immersed in the culture of Portlandia. As we drive through the neighborhood join us in discussion about "The dream of the 90s", the 1890s, 1950s and pretty much any period you want to embody. There will be conversation regarding getting your 'stache waxed, mutton chops trimmed or a straight-edge shave at Modern Man Barber Shop, where the aftershaves are all custom-made. See turn-of-the-century lumberjack food (thick-cut bacon, grits and fried chicken with gravy) at Pine State Biscuits.
En route to our next film location we will drive through Laurelhurst neighborhood to Oblique Coffee Roasters: "Funny Evite Replies" In this episode Patton Oswalt as Thor83 posts funny replies to an online evite while at the coffee shop. Oblique Coffee Roasters is a Victorian Coffee Mercantile with scrumtrulescent beans micro roasted in a German cast iron roaster named Bart!
We include Buckman School, Shooting Star Academy where Season 2, Episode 4: Fred and Carey want to get Grover into a good kindergarten to ensure his future.
Verna Katz Esplanade where Season 1, Episode 1: The dream of the '90s is alive in Portland
---
Customized and Private Tours: All tours can be customized and/or made private. Please contact us for details and pricing.
Tour Price Includes: Pick up & Drop off, transportation and tour guide. All applicable fees, unless otherwise stated.
Not Included in Price: Gratuity and lunch. You will have an opportunity to purchase lunch and/or snack.
Requirements: Tours require 2 person minimum for confirmation. Please contact us for current status of tour.
Payment: On-line reservations can be made or via phone using a credit or debit card. Payment will be processed immediately to secure your reservation. Payment on day of pick up will not guarantee your reservation. Cash payments are accepted at time of tour.
Cancellation Policy: If you cancel at least 7 day(s) in advance of the scheduled departure, there is no cancellation fee. If you cancel between 3 and 6 day(s) in advance of the scheduled departure, there is a 50 percent cancellation fee. If you cancel within 2 day(s) of the scheduled departure, there is a 100 percent cancellation fee.
Reservations: All reservations are final at time of booking. We recommend two weeks in advance for reservations especially during our high volume seasons. Walk-ins please call to confirm departure and availability.
Terms and Conditions
I. Other Entities: America's Hub World Tours (AHWT) will not be held responsible for cancelations, changes to services/fees/price, conduct, of quality of goods and services for entities that operate under any name other than AHWT including, but not limited to: vendors, tour operators, vineyards and wineries, event staff, hotels, transportation companies, restaurants and entertainers.
II. Weather – Unless otherwise noted and specified all services are planned to operate regardless of weather. In the event of an "Act of God" and weather presents a safety issue AHWT will offer other tours to consider. There will be no reimbursements, full or partial, for inclement weather experienced during any service provided. It is the responsibility of the guests to be prepared for predicted weather and dress accordingly.
III. Conduct –AHWT assumes no responsibility for conduct of individuals other than its guides/employees/officers.
Indemnify: Except as otherwise prohibited by law each party shall indemnify and hold the other party harmless from all claims, actions, suits, losses, and expenses of any nature for its employees or subcontractors, breach of their agreement, negligence or intentional misconduct.
Insurance: America's Hub World Tours (AHWT), will ensure all tour operators, and bus companies provide insurance coverage for all vehicles utilized while providing services.
Cancellation Policy: If you cancel at least 7 day(s) in advance of the scheduled departure, there is no cancellation fee. If you cancel between 3 and 6 day(s) in advance of the scheduled departure, there is a 50 percent cancellation fee. If you cancel within 2 day(s) of the scheduled departure, there is a 100 percent cancellation fee.
No smoking in Vehicles; No alcohol drinking in vehicles! Not responsible for articles left in vehicles! There will be a $200 minimum damage/cleaning charge resulting from customer misuse. All passengers are responsible and liable for their own actions while in this vehicle; neither the driver nor the company is responsible or liable for any injury or damage caused by or as a result of any customer actions. We are not in control of the traffic and therefore take no responsibility for time issues due to traffic.
The state of Oregon requires all parents with children requiring car seats to use them. Child passengers must be restrained in approved child safety seats until they weigh forty pounds or reach the upper weight limit for the car seat in use. Infants must ride rear-facing until they reach both one year of age AND twenty pounds. We do not supply car seats; if you did not bring one the hotel can recommend rental locations. Some will deliver to hotels.
Portland Step on Guide Service, Sergio Tours, and other local partners in collaboration with America's Hub World Tours are offering to bring you the best and most complete tour experience available.
For more information regarding the many other tours we offer please visit us at: http://www.americashubworldtours.com
– See more at: http://www.americashubworldtours.com/?wpsc-product=portlandia-tour#sthash.IfyR3Cb9.dpuf