Tour season: March-early October
Departure dates: Customized dates for private groups
Duration: 9 days/8 nights 
Pricing:
6-12 people: $3350.00 per person
14-24 people: $2966.00 per person 
26-50 people: $2506.00 per person
(Requires minimum 6 people to run the tour & the minimum can be met by people from different groups signing up for the tour)
Includes: Double occupancy rooms, transportation, guide/driver, hotel, and meals as listed
Contact us for tour prices that include an interpreter.
Itinerary:
Day 1: Arrive Seattle Airport (group dinner)
Upon your arrival in Seattle, you can check in the host hotel (included in the package) and spend the rest of the day on your own.
Note: For group (20 or more) needing special arrangement with airport transfers contact us directly for assistance.
Overnight in Seattle, WA
Day 2:  Seattle – Hurricane Ridge  – Port Angeles (group lunch, dinner on own)
We will visit the Hurricane Ridge Visitor Center where you can learn how this amazing location received its name, and about the plants and animals found in Olympic National Park.

We will then drive up to  the Hurricane Ridge viewpoint. You will enjoy spectacular views of Olympic National Park from there.  The road leading west from the Hurricane Ridge visitor center is dotted with picnic areas and trailheads, which makes it a great area to eat lunch!
Overnight Port Angeles, WA
Day 3:  Port Angeles – Olympic National Park- Olympia (group lunch, dinner on own)
Originally established as a national monument in 1909, the area was re-designated Olympic National Park by President Franklin Roosevelt in 1938. In 1976, it became an International Biosphere Reserve, and in 1981 was designated a World Heritage Site.

Covering nearly one million acres, Olympic National Park provides three distinct ecosystems—glaciated mountains, rugged Pacific coastline, and lush temperate forests—and their distinct flora and fauna for nature-lovers to explore. Over 95% of the park is designated wilderness, protecting one of the largest wilderness areas in the lower 48, giving visitors the opportunity to experience remoteness and pristine nature in a way that few other places can.

The diverse forest communities making up the park provide homes to everything from acid-loving wild cranberry bushes to giant spruce trees, hundreds of years old.

The neighboring ecosystems give visitors of Olympic National Park an opportunity to see sea otters, whales, beavers, bears, rhinoceros auklets, golden eagles, and more. The park is also home to endemic species like the Olympic marmot and the Olympic torrent salamander that can be found nowhere else in the world.
Overnight Olympia, WA
Day 4:  Olympia – Mount Rainier National Park – Portland (group lunch, dinner on own)
Mount Rainier is the most glaciated peak in the contiguous U.S.A., spawning six major rivers. Subalpine wildflower meadows ring the icy volcano while ancient forest cloaks Mount Rainier's lower slopes. Wildlife abounds in the park's ecosystems.

We will visit Paradise while at Mt. Rainier.  This area is famous for its glorious view and wildflower meadows.  We will stop at the Paradise Visitor Center, where you will be able to learn more about the ecosystem of the park and the parks history.  
Overnight Portland, OR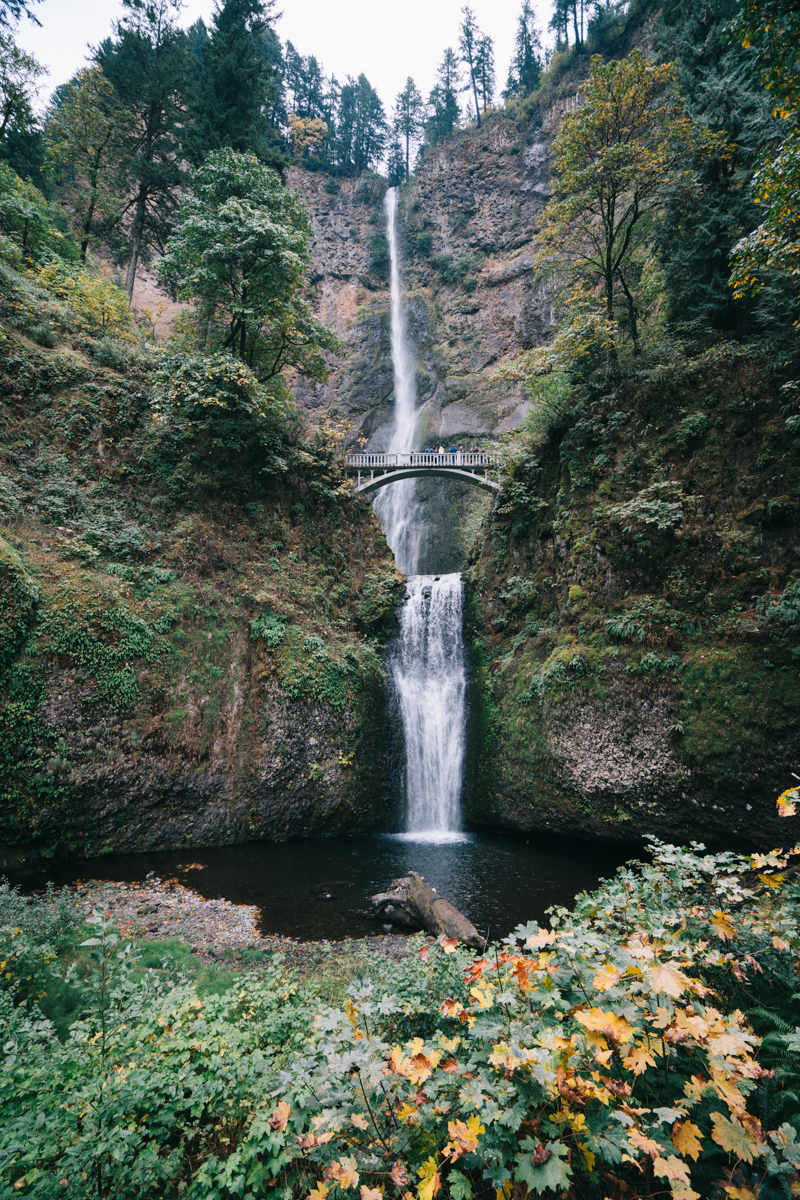 Day 5:  Portland – Columbia River Gorge – Bend (lunch and dinner on own)
We don't just drive by the waterfalls! We stop and allow you to get out and up close. We start along the Historic Columbia River Highway.  Stops may include:
Crown Point Vista House: 

Best known of the scenic lookouts along the Historic Columbia River Highway, providing a panoramic view of the Columbia River. The Crown Point Vista House

was built in 1916 and refurbished and completely remodeled in 2005, and has a beautiful marble interior and brass fixtures.
Latourell Falls: 

Plunge 249 feet (76 m) over a massive wall of columnar basalt – some of the best formations in the Pacific Northwest – before cascading hastily towards the Columbia River. This waterfall is usually most recognized for the large patch of bright yellow lichen adorning the cliff face to the right of the falls, and this characteristic has led many famous photographers to this captivating location. If you stand in just the right place, and look way up, behind the falls you see another falls!
Multnomah Falls: 

The second highest year-round waterfall in the United States. Nearly two million visitors a year come to see this ancient waterfall, making it Oregon's number one public destination. Fed by underground springs from Larch Mountain, the flow over the falls varies but is highest during winter and spring.
Horsetail Falls: 

Horsetail Falls was named for its distinctive form and plunges 176 feet. The trail leads to Upper Horsetail Falls, also called Ponytail Falls. There the trail leads behind the base of the Falls. Horsetail Falls is a great opportunity to stop and take some photos or simply enjoy the beauty of the surrounding area.
Overnight Bend, OR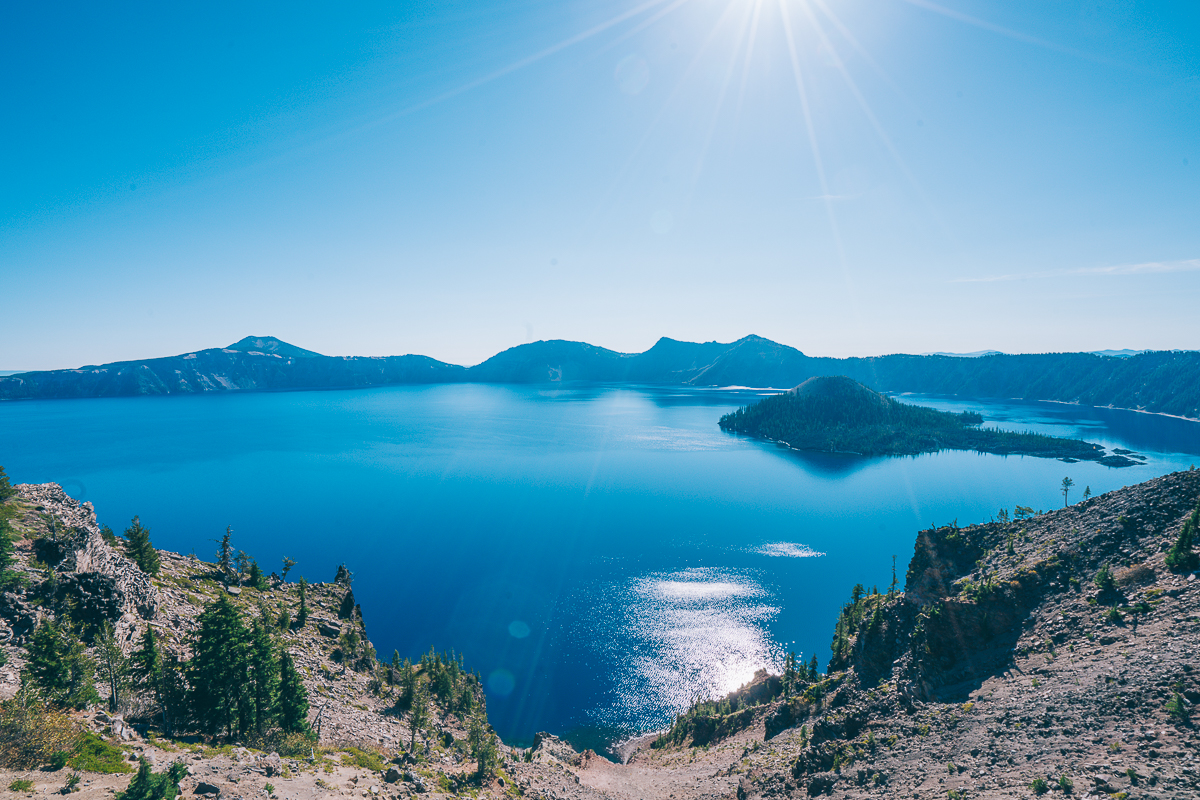 Day 6:  Bend – Crater Lake National Park – Eugene (group lunch, dinner on own)
At Crater Lake National Park you can see what a wonder the world really is. The water is so blue, so deep, it's no surprise it's the deepest lake in America, and one of the deepest on earth. That's why it's one of the 7 Wonders of Oregon. We will see the lake from Rim Drive and have plenty of opportunities to take amazing pictures!  We will have lunch at Rim Village, and you will have the opportunity here to take a short walk along the edge of the lake for more views and photos!

We will  follow Hwy 58 through the town of Oakridge which is one of the leading mountain biking destinations in the country.  Bike Magazine recognized Oakridge as one of "America's Five Best Mountain Biking Towns," because it is surrounded by hundreds of miles of highly rated trails.

We will also stop at Salt Creek Falls which plunges 286 feet. This dramatic waterfall is the second highest continuous waterfall in Oregon; Multnomah Falls being the first. Its flow typically peaks between April to August.
Overnight Eugene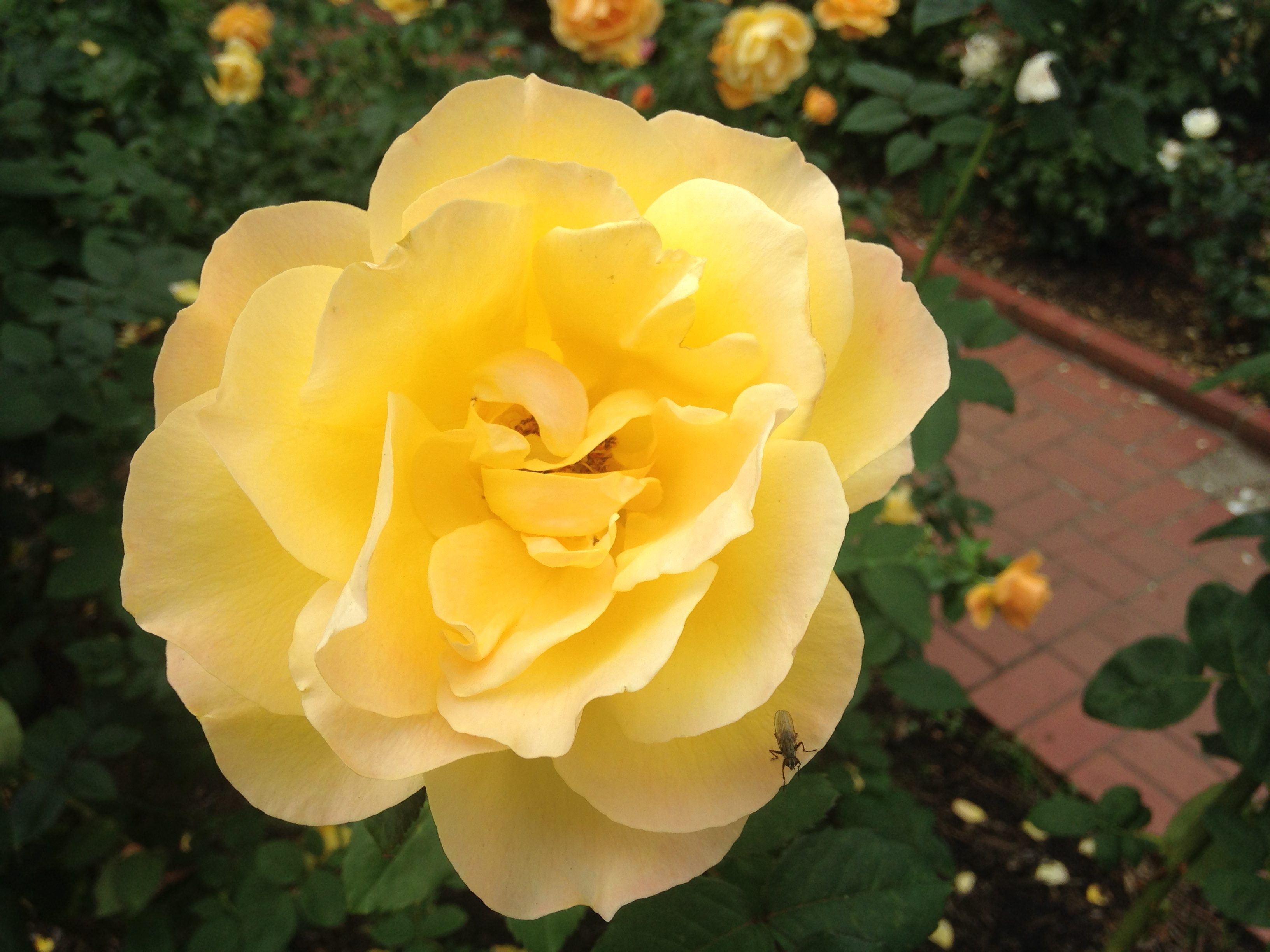 Day 7:  Eugene –  Woodburn Outlet Mall – Portland  (lunch and dinner on own)
Woodburn Premium Outlets is the top destination for tax-free outlet shopping. It features 110 stores including Adidas, Banana Republic, Gap, Nike, The North Face, and more all at savings of 25% to 65% every day. Designer name brands, skylight-covered walkways, and beautiful Northwest architecture and landscaping make this a unique and fun shopping experience year round. This is a great place to stop and shop, especially since Oregon has no sales tax!
Overnight Portland, OR
Day 8:  Portland – Seattle (lunch and dinner on own)
We will visit Seattle City Center and enjoy the views from 500 feet up on the observation deck of the Space Needle. We will stop by the Chihuly Garden and Glass. This is a stop that you cannot miss in Seattle. The Chihuly glass sculptures are  beautiful and unique. It is absolutely a feast for your eyes and imaginations.

Our tour will also visit the infamous Pike Place Market for some free time to shop, eat, explore, and catch a glimpse of the fish mongers throwing giant fish across the room! You also have chance to visit the Pike Place Starbucks  which is the first 

Starbucks

 store, established in 1971 at 

Pike Place Market

 in 

downtown Seattle

, 

Washington

. The store has kept its early appearance over time and is subject to design guidelines due to its historic significance. Why not get  a cup of coffee there and enjoy the rest of your day in Seattle?

You will find a lot of good dining options in the market and you will have lunch and dinner on your own.
Overnight  Seattle, WA
Day 9:  Seattle
Free time to explore Seattle until your flight departs
---
Customized and Private Tours: All tours can be customized and/or made private. Please contact us for details and pricing.
Tour Price Includes: Pick up & Drop off, transportation and tour guide. All applicable fees, unless otherwise stated.
Not Included in Price: Gratuity and meals unless listed.
Requirements: Tours require 2 person minimum for confirmation. Please contact us for current status of tour.
Payment: On-line reservations can be made or via phone using a credit or debit card. Payment will be processed immediately to secure your reservation. Payment on day of pick up will not guarantee your reservation. Cash payments are accepted at time of tour.
Reservations: All reservations are final at time of booking. We recommend two weeks in advance for reservations especially during our high volume seasons. Walk-ins please call to confirm departure and availability.
Cancellation, Refunds and Changes: The guest may cancel the services at any time, but will be required to pay the applicable cancellation charges up to the maximum shown below:
61-90 days prior to event 75% refund of final total tour/package cost
31-60 days prior to event 50% refund of final total tour/ package cost
30 days or less prior to departure 10% refund of final total tour/package cost
Cancelled reservations may be re-booked subject to availability.
Terms and Conditions
I. Other Entities: America's Hub World Tours (AHWT) will not be held responsible for cancelations, changes to services/fees/price, conduct, of quality of goods and services for entities that operate under any name other than AHWT including, but not limited to: vendors, tour operators, vineyards and wineries, event staff, hotels, transportation companies, restaurants and entertainers.
II. Weather – Unless otherwise noted and specified all services are planned to operate regardless of weather. In the event of an "Act of God" and weather presents a safety issue AHWT will offer other tours to consider. There will be no reimbursements, full or partial, for inclement weather experienced during any service provided. It is the responsibility of the guests to be prepared for predicted weather and dress accordingly.
III. Conduct –AHWT assumes no responsibility for conduct of individuals other than its guides/employees/officers.
Indemnify: Except as otherwise prohibited by law each party shall indemnify and hold the other party harmless from all claims, actions, suits, losses, and expenses of any nature for its employees or subcontractors, breach of their agreement, negligence or intentional misconduct.
Insurance: America's Hub World Tours (AHWT), will ensure all tour operators, and bus companies provide insurance coverage for all vehicles utilized while providing services.
Cancellation, Refunds and Changes: The guest may cancel the services at any time, but will be required to pay the applicable cancellation charges up to the maximum shown below:
61-90 days prior to event 75% refund of final total tour/package cost
31-60 days prior to event 50% refund of final total tour/ package cost
30 days or less prior to departure 10% refund of final total tour/package cost
Cancelled reservations may be re-booked subject to availability.
No smoking in Vehicles; No alcohol drinking in vehicles! Not responsible for articles left in vehicles! There will be a $200 minimum damage/cleaning charge resulting from customer misuse. All passengers are responsible and liable for their own actions while in this vehicle; neither the driver nor the company is responsible or liable for any injury or damage caused by or as a result of any customer actions. We are not in control of the traffic and therefore take no responsibility for time issues due to traffic.
The state of Oregon requires all parents with children requiring car seats to use them. Child passengers must be restrained in approved child safety seats until they weigh forty pounds or reach the upper weight limit for the car seat in use. Infants must ride rear-facing until they reach both one year of age AND twenty pounds. We do not supply car seats; if you did not bring one the hotel can recommend rental locations. Some will deliver to hotels.
Oregon Tour Experts, and other local partners in collaboration with America's Hub World Tours are offering to bring you the best and most complete tour experience available.
For more information regarding the many other tours we offer please visit us at: http://www.americashubworldtours.com
Save