Season: July through late September 2018
Minimum Guest Count: 6 (The minimum guest count can be met by multiple people from separate groups booking this tour.)
Maximum Guest Count: 18
2018 Departure Dates: July 6/27, August 10/24
Duration: 7 days/6 nights
Pricing: 6-14 people $2575.00 per person
16-18 people $2171.00 per person
Includes: Double occupancy rooms, transportation, guide/driver, activities as listed, breakfast daily, other meals as listed.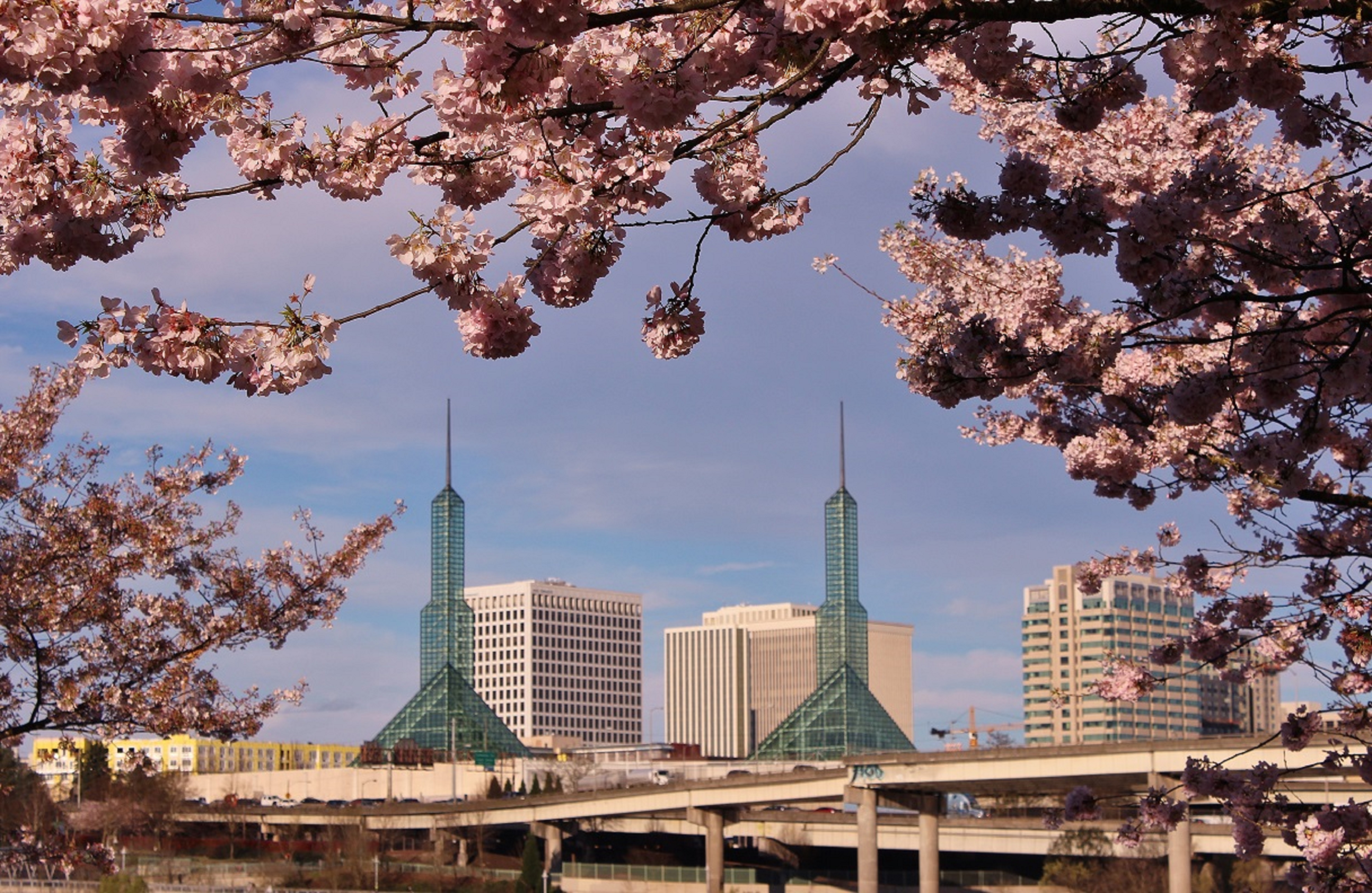 Day 1: Portland City Tour & drive to Pendleton
Experience the City of Portland today! We will visit some amazing location such as Lan Su Chinese Garden, the International Rose Test Garden, and a local Portland chocolate company.
• Downtown Portland:
o Enjoy the sights of Pioneer Square and learn about the great diversity found in Portland's downtown area, the historical importance it has played in the state's history, and the fast-growing culture that exists in the City of Portland.
o Learn about the final resting place of many prominent and notable citizens of Oregon; Lola Baldwin (1860–1957) First female police officer in the United States; Simon Benson (1852–1942) Portland businessman and philanthropist; Abigail Scott Duniway (1834–1915) Women's rights pioneer; Dorothy McCullough Lee (1902–1981) First female mayor of Portland; Henry Pittock, (1836–1919) Publisher of The Oregonian newspaper, and many more governors and United States Senators.
• International Rose Test Garden:  Let the fragrance of our Rose Gardens embrace you with over 600 varieties of roses, and delight your senses with beautiful Washington Park, featuring some of the most amazing mountain views around.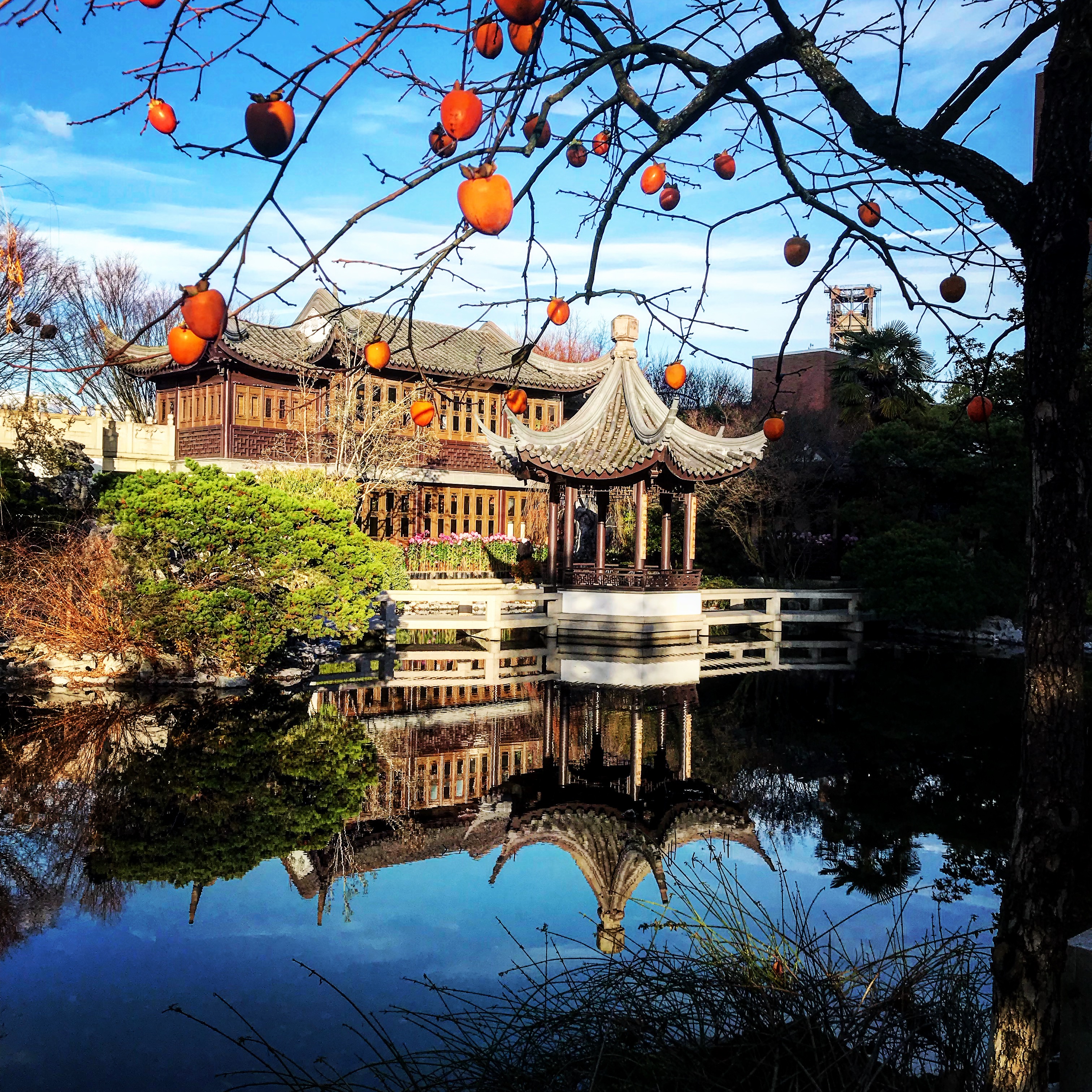 • Lan Su Chinese Garden:  This is one of Portland's greatest treasures and most interesting sites to see while visiting Portland. A result of a collaboration between the cities of Portland and Suzhou, our sister city in China's Jiangsu province that's famous for its beautiful Ming Dynasty gardens, Lan Su was built by Chinese artisans from Suzhou and is the most authentic Chinese garden outside of China. Once inside the garden's walls, you'll feel as if you've traveled through time to another era in a faraway world.
• We will visit a local Portland chocolate company! While there you will enjoy a tour of their chocolate making area and taste a variety of their amazing chocolate.
After lunch we will drive to Pendleton, where we will spend the night.
Overnight Pendleton
Day 2: Wagon Train Excursion (breakfast at hotel, group dinner)
This morning we will do a walking tour of the Pendleton Bronze Trail.  Learn the stories behind their legendary cowboys and cowgirls, arms of the law, tribal leaders, artists, educators and more. If you prefer to stay at the hotel and relax this morning, that is fine also!
Today after lunch you will start an experience like no other. Have you ever wondered what it would be like to travel in a covered wagon pulled by mules, eat food cooked over the campfire, and sleep under the stars in an area where the sky is so dark you can see every star above you? Today is when that unforgettable experience starts! We will spend the next three days exploring Eastern Oregon in covered wagons pulled by mules and Belgian horses. All of your meals during this Wagon Train Excursion will be provided for you. We will sit around a campfire eating delicious food and telling stories until you can no longer hold your eyes open. Once you are ready for bed you can climb into your tent and enjoy the amazing quiet of Eastern Oregon.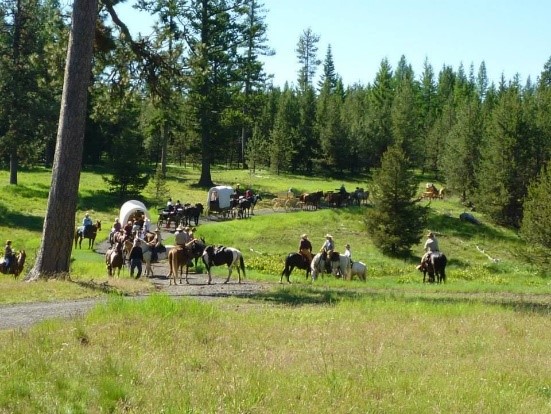 Day 3: Wagon Train Excursion (group breakfast/lunch/dinner)
Wake up early so you can take in an unforgettable Eastern Oregon sunrise. If you want to sleep in you can, but don't sleep in so late that you miss breakfast! Today we will continue exploring Eastern Oregon by Wagon Train.
Day 4: Wagon Train Excursion (group breakfast)
This is our last morning on the wagons so make sure to soak up the experience. After breakfast we will drive to Pendleton where you will have the afternoon free.
Overnight Pendleton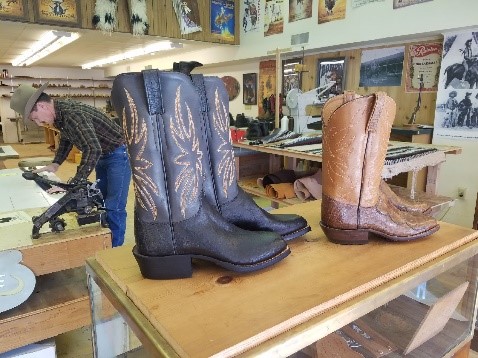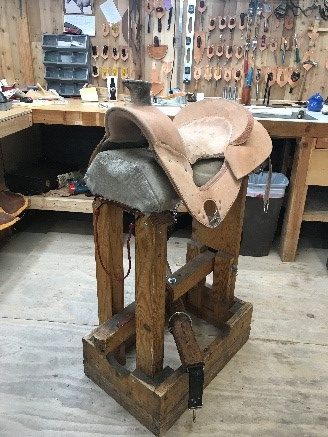 Day 5: Pendleton Makers Tour (breakfast at hotel)
Morning Activity: The Pendleton Round-Up and Happy Canyon Hall of Fame
• Ranging from a full-sized teepee to delicate beadwork, the exhibits in the Hall of Fame cover a wide range of subjects and span over 100 years of Round-Up and Happy Canyon history. Saddles, clothing, Indian regalia, photographs, firearms, trophies, wagons, … hundreds of items are displayed for your enjoyment.
Afternoon Activity: Meet the makers carrying on traditional crafts in this amazing Western town!
• We will visit Staplemans Boots & Leather. Richard Stapleman builds hand crafted cowboy boots and shoes. All boots and shoes are customized to fit your size and style, so you can choose what kind of leather, carving, heel and design you want. Stapleman does a series of measurements to ensure each boot or shoe is a perfect fit. While boots are his specialty, Stapleman also handcrafts customized belts, chaps and handbags. Learn how Richard makes his custom shoes and order a pair if you want. You will also have the opportunity to use leather stamping tools to make you own design in a piece of leather!
• Next, we will visit the Pendleton Hat Company. Perk Perkins is a master craftsman in the making and restoring of western hats. You will learn how he makes his amazing hats, see the tools he uses to make them, and have a chance to get your head measured so that you can order a hat built to fit your head perfectly if you are so inclined.
• We will then make our way to Hamley & Co. Hamley's has been a Pendleton business since 1905 when J.J. Hamley relocated to Pendleton, Oregon, and set up shop on the Oregon Trail in the same building that it occupies to this day. Hamley's was first known as a harness and saddle maker, but the business soon developed and increased around its saddles and became known throughout the west as the maker of "the finest saddles man could ride." While exploring their store that is full of amazing bronze art, jewelry, western clothing, saddles, and cowboy hats you will learn about the history of the company and the history of Pendleton! We will also visit their saddle shop, where they make custom saddles and do saddle repair.
• Our final stop of the day will be at Oregon Grain Growers Brand Distillery. Using locally grown grains they make vodka, whiskey, and gin. While here we will do a tour of the distillery and taste their spirits.
Overnight Pendleton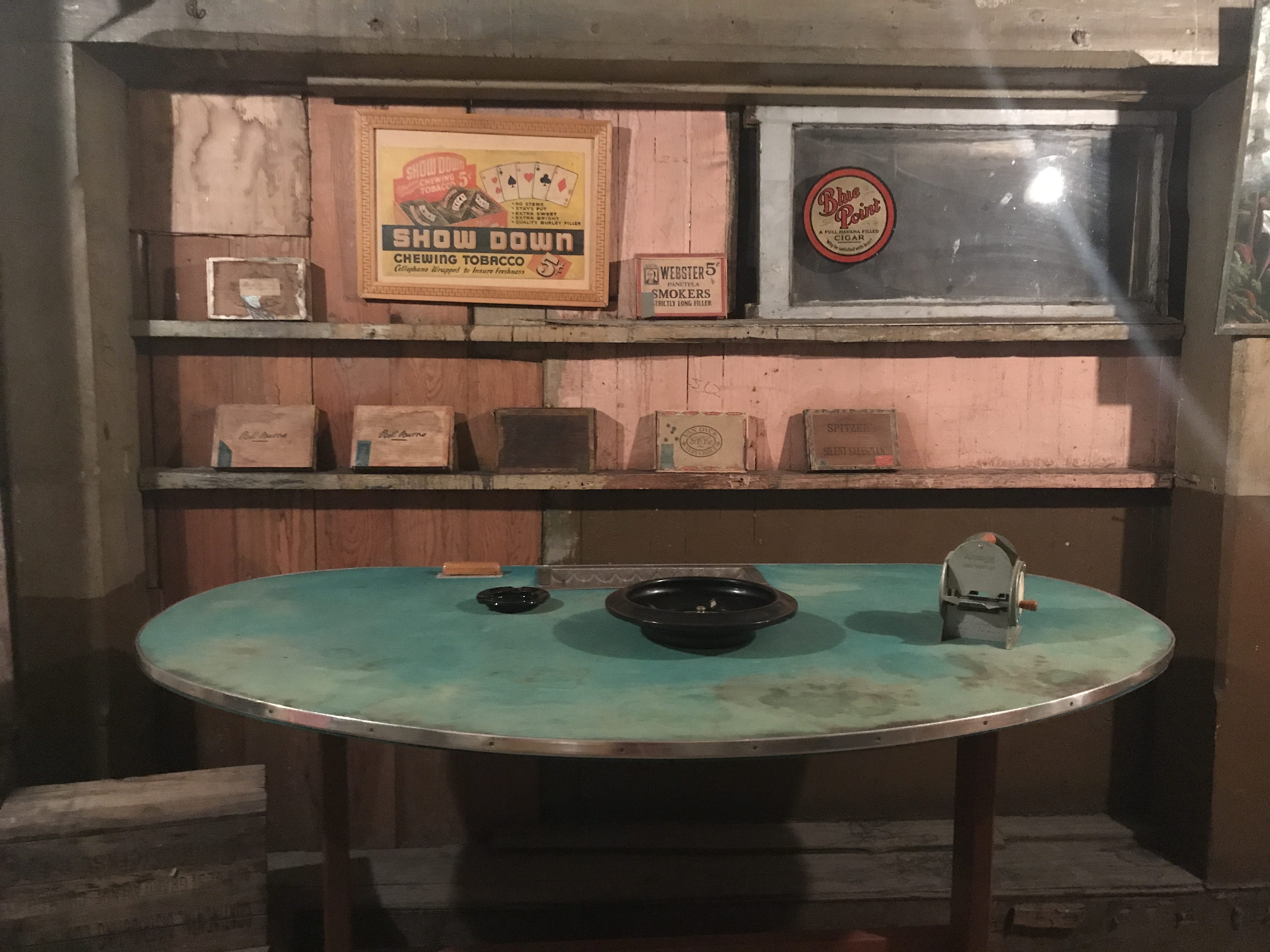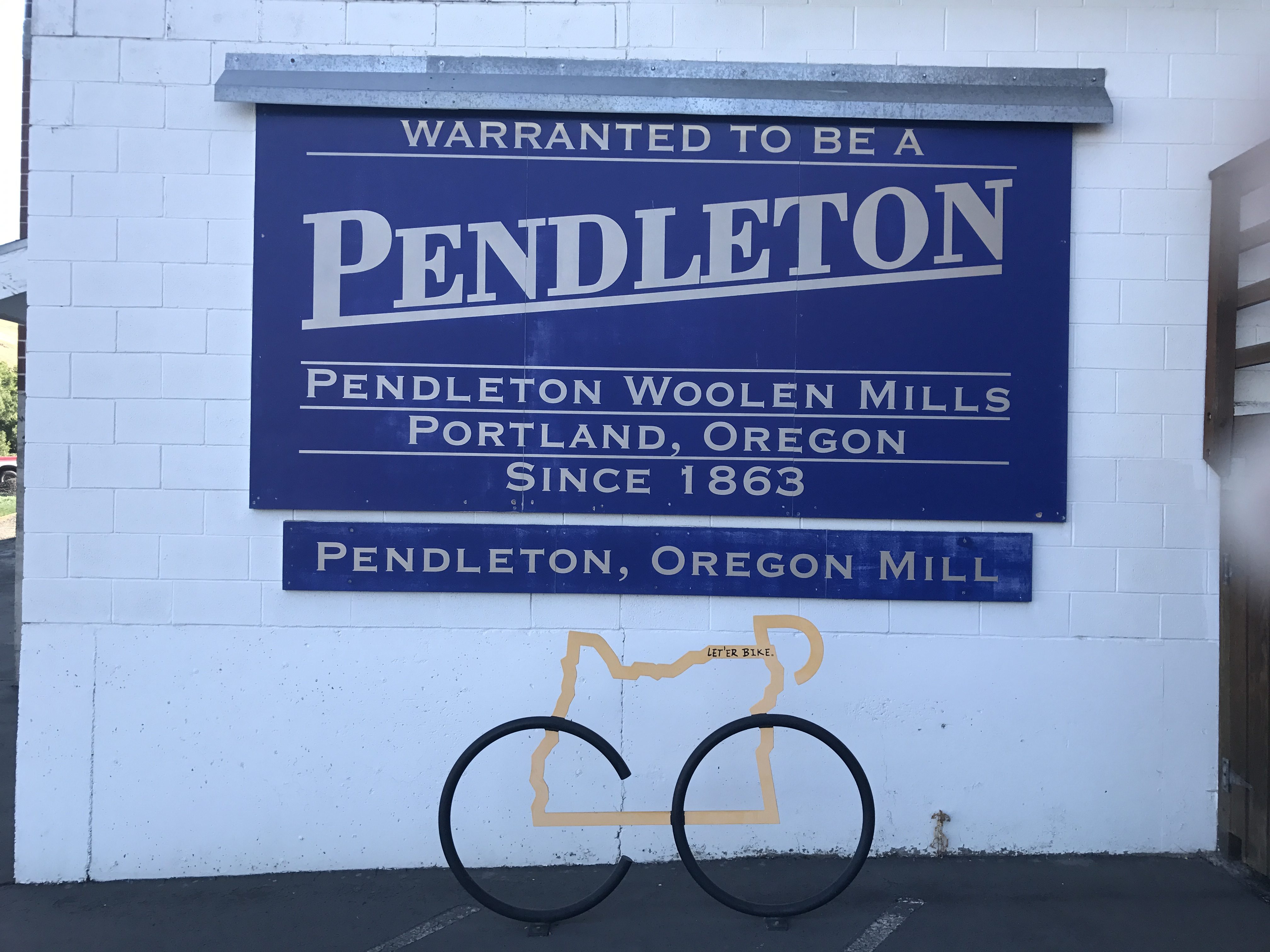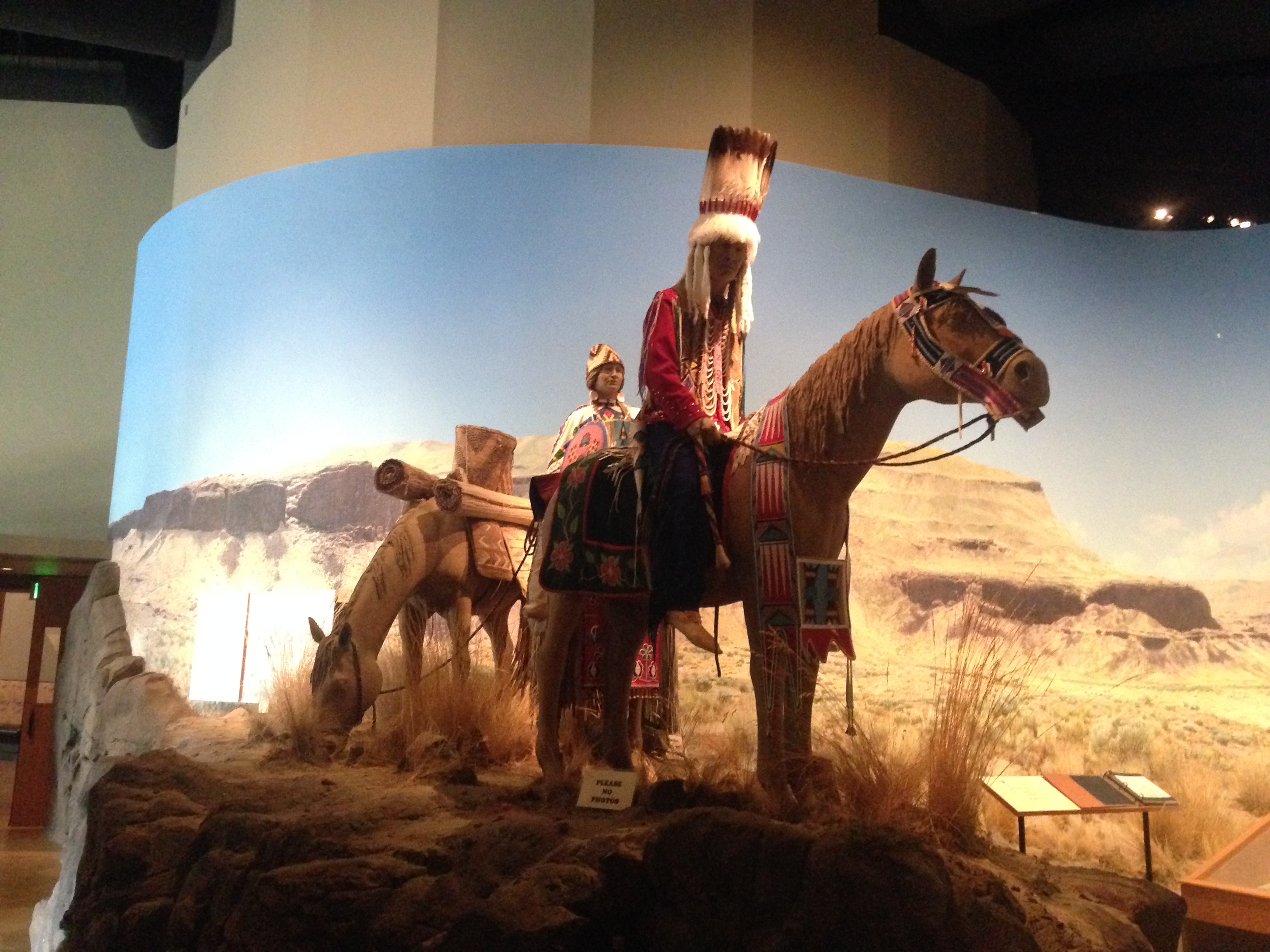 Day 6: Explore Pendleton (breakfast at hotel, group dinner)
Today you will experience a Pendleton Underground Tour. Learn about the hidden history of Pendleton and why Pendleton was known as the entertainment capital of Eastern Oregon. You will explore the tunnels beneath the sidewalks, the Prohibition Card Room, and the famous "Cozy Rooms".
We will also visit the Pendleton Woolen Mill and do a tour where you can see and learn about the renown Pendleton weaving process. When you're finished you can visit our Mill Store where you can select from Pendleton's array of menswear, womenswear, blankets and fabrics.
We will finish the day with a visit to Tamástslikt Cultural Institute. More than just a museum, Tamástslikt celebrates the traditions of Cayuse, Umatilla and Walla Walla Tribes. With dramatic exhibits, and renowned artwork, Tamástslikt Cultural Institute offers a 10,000-year-voyage in a single afternoon. While here you will not only be able to tour their amazing exhibits, you will also meet tribal members in traditional Native American clothing, have a chance to learn about the history between Native Americans and horses (there will be a real horse for you to interact with!), & make and decorate a buckskin pouch. As the day wraps up we will have dinner at the museum.
Overnight Pendleton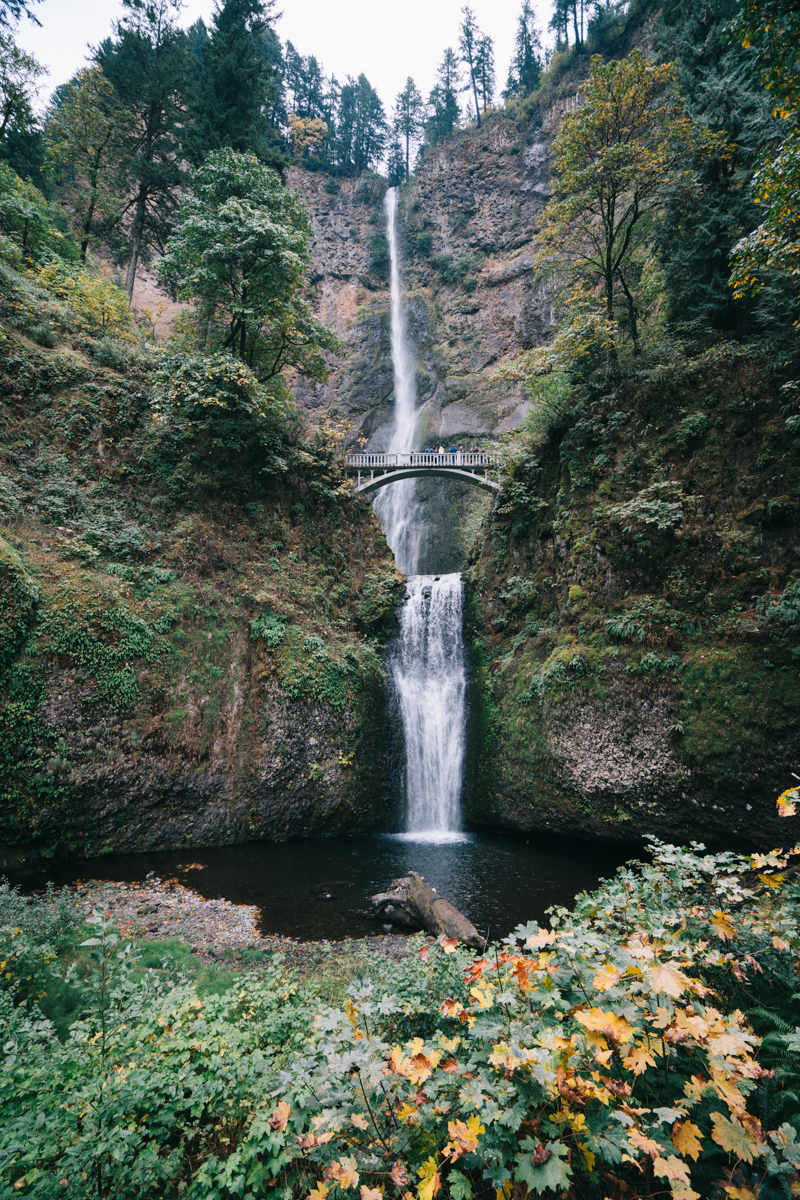 Day 7: Pendleton-Portland (breakfast at hotel, group lunch)
On our way back to Portland we will stop at The Sage Center which is an interactive visitor center that highlights sustainable agriculture and energy.
Developed by the Port of Morrow, the SAGE Center gives visitors a unique opportunity to learn about the technology that takes place locally within the Port of Morrow and region without visiting each industry.
Next we will explore the Columbia River Gorge National Scenic Area. Our first stop will be at the second highest year-round waterfall in the United States, Multnomah Falls. You will enjoy spectacular views of many waterfalls throughout the gorge. We will also be touring many of the other wonderful sites along the Columbia River Gorge including Vista House, a unique visitor facility that was built in 1916.
After our visit to the Gorge we will drop you at your hotel and you will be free to explore for the evening.
End of tour.
Optional Activity: Enjoy a wine tasting at Echo Ridge Cellars. Experience their distinctive vineyard site in Echo, Oregon, elevated high above the Umatilla River to the east and Alkali Canyon to the west. They have an uncompromising commitment to hands-on, cutting-edge farming practices and amazing wine.
** Please be aware that while on the Wagon Train Excursion you will be camping in a tent, and that there will be no bathroom facilities with running water available.  We will have a backcountry toilet for you to use, but you will not be able to shower while we are camping.
---
Customized and Private Tours: All tours can be customized and/or made private. Please contact us for details and pricing.
Tour Price Includes: Pick up & Drop off, transportation and tour guide. All applicable fees, unless otherwise stated.
Not Included in Price: Gratuity and lunch not included, unless specified. Many stops offer an oppotrunity to purchase lunch and/or snacks.
Requirements: Tours require 2 person minimum for confirmation. Please contact us for current status of tour.
Payment: On-line reservations can be made or via phone using a credit or debit card. Payment will be processed immediately to secure your reservation. Payment on day of pick up will not guarantee your reservation. Cash payments are accepted at time of tour.
Cancellation, Refunds and Changes: The guest may cancel the services at any time, but will be required to pay the applicable cancellation charges up to the maximum shown below:
61-90 days prior to event 75% refund of final total tour/package cost
31-60 days prior to event 50% refund of final total tour/ package cost
30 days or less prior to departure 10% refund of final total tour/package cost
Cancelled reservations may be re-booked subject to availability.
Reservations: All reservations are final at time of booking. We recommend two weeks in advance for reservations especially during our high volume seasons. Walk-ins please call to confirm departure and availability.
Terms and Conditions
I. Other Entities: America's Hub World Tours (AHWT) will not be held responsible for cancellations, changes to services/fees/price, conduct, of quality of goods and services for entities that operate under any name other than AHWT including, but not limited to: vendors, tour operators, vineyards and wineries, event staff, hotels, transportation companies, restaurants and entertainers.
II. Weather – Unless otherwise noted and specified all services are planned to operate regardless of weather. In the event of an "Act of God" and weather presents a safety issue AHWT will offer other tours to consider. There will be no reimbursements, full or partial, for inclement weather experienced during any service provided. It is the responsibility of the guests to be prepared for predicted weather and dress accordingly.
III. Conduct –AHWT assumes no responsibility for conduct of individuals other than its guides/employees/officers.
Indemnify: Except as otherwise prohibited by law each party shall indemnify and hold the other party harmless from all claims, actions, suits, losses, and expenses of any nature for its employees or subcontractors, breach of their agreement, negligence or intentional misconduct.
Insurance: America's Hub World Tours (AHWT), will ensure all tour operators, and bus companies provide insurance coverage for all vehicles utilized while providing services.
Cancellation, Refunds and Changes: The guest may cancel the services at any time, but will be required to pay the applicable cancellation charges up to the maximum shown below:
61-90 days prior to event 75% refund of final total tour/package cost
31-60 days prior to event 50% refund of final total tour/ package cost
30 days or less prior to departure 10% refund of final total tour/package cost
Cancelled reservations may be re-booked subject to availability.
No smoking in Vehicles; No alcohol drinking in vehicles! Not responsible for articles left in vehicles! There will be a $200 minimum damage/cleaning charge resulting from customer misuse. All passengers are responsible and liable for their own actions while in this vehicle; neither the driver nor the company is responsible or liable for any injury or damage caused by or as a result of any customer actions. We are not in control of the traffic and therefore take no responsibility for time issues due to traffic.
The state of Oregon requires all parents with children requiring car seats to use them. Child passengers must be restrained in approved child safety seats until they weigh forty pounds or reach the upper weight limit for the car seat in use. Infants must ride rear-facing until they reach both one year of age AND twenty pounds. We do not supply car seats; if you did not bring one the hotel can recommend rental locations. Some will deliver to hotels.
Portland Step on Guide Service, Sergio Tours, and other local partners in collaboration with America's Hub World Tours are offering to bring you the best and most complete tour experience available.
For more information regarding the many other tours we offer please visit us at: http://www.americashubworldtours.com
Save
Save
Save